Latest News
Educational events in 2023
The return of face-to-face meetings in 2023 included invited lectures at the following meetings;
'Examination of the Hand and Wrist' at The Royal Society of Medicine in London
'Management of Hand and Wrist Injuries in High Demand Individuals' at the Instructional Courses for the British Society for Surgery of the Hand in Manchester
'The Role of Imaging in the Management of Golf Injuries' at the British Society of Skeletal Radiology meeting in Leeds
18th - 19th July 2022
The 2nd International Conference on Golf and Health was held at the Royal College of Surgeons of Edinburgh. This multi-disciplinary meeting brought together key stakeholders from the world of healthcare politics (including the World Health Organisation and the Scottish Government), elite performance science and event medicine to discuss and debate some of the key issues that relate to golf performance.
Mr Campbell was invited to deliver a lecture on 'The Hand and Wrist in Golf' and also had an original research topic accepted for presentation in the Free Paper section.
16th July 2022
Mr Campbell was invited to join the 2022 Annual Scientific Meeting of the Taiwan Hand Surgery Society to deliver a live online lecture on his work in implant development and bioengineering. A live Q&A session concluded his contribution.
14th - 15th July 2022
The 150th Open Golf Championship was held at The Old Course in St Andrews. Mr Campbell joined a team of specialist medical staff providing expert clinical assessment services to the players and competitors in the tournament.
He also met up with his friend and colleague Dr Corey Cunningham, Chief Medical Officer of the New South Wales Institute of Sport who was based in Scotland for the week representing Golf Australia.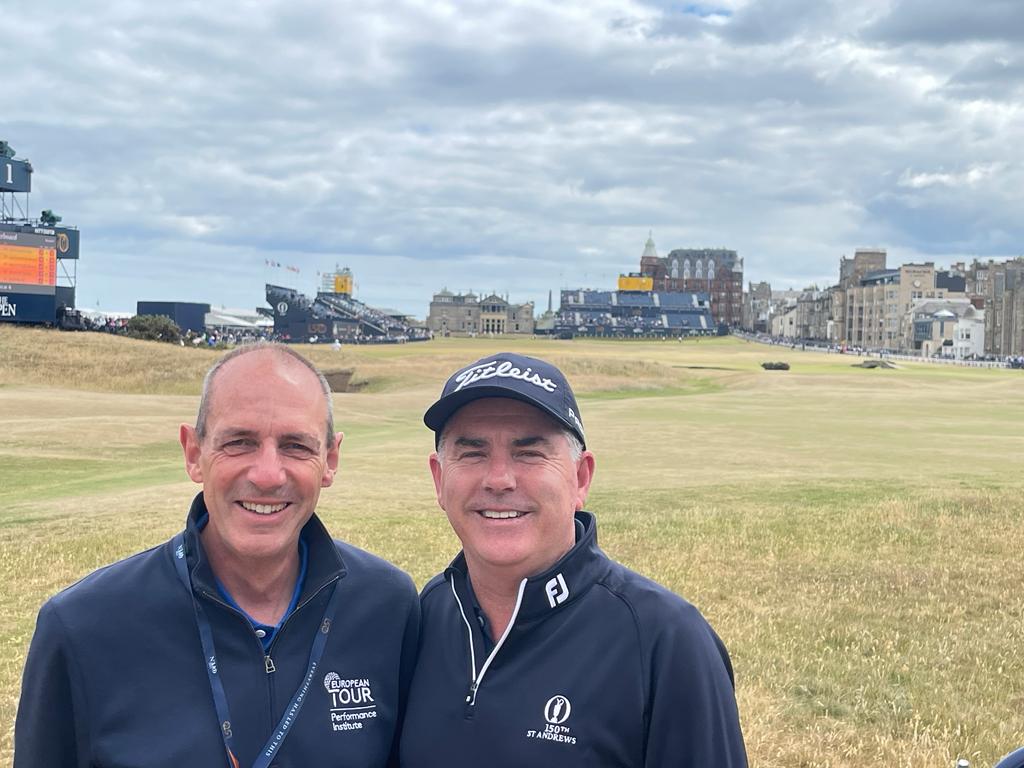 2020 and 2021
Mr Campbell's lecturing commitments and teaching activities changed as a consequence of the global pandemic. Travel was no longer possible but surgical education still continued by remote means.
This shift in delivery of material to virtual meetings using live video allowed considerable improvements to be made. Audience size and participant numbers are now limitless, allowing (on some occasions) many hundreds - and in some cases thousands - of surgeons around the world to access live lectures, discussions and Q&A sessions - with live questions submitted via social media and received and answered in real time to the audience.
Mr Campbell engaged with national sporting organisations to deliver interactive webinar meetings to specialty Sports and Exercise Medicine medics and physiotherapists, including the European Tour (professional golf) and the RFL (Rugby Football League).
He also delivered interactive webinar teaching sessions to orthopaedic and trauma surgeons in
Thailand, Malaysia and India, ensuring continued dialogue in spite of the enforced and essential restrictions on face-to-face interaction.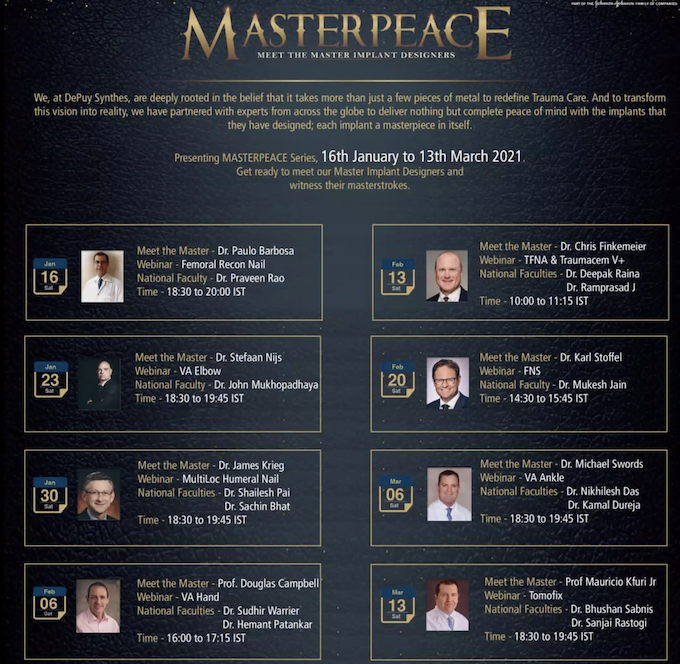 In addition, the AO Courses in Davos, Switzerland in December 2020 were organised entirely online for the first time,with participants from around the globe. Participants were offered both didactic live lectures as well as being split into smaller discussion groups that were run remotely by two 'live' expert surgeons.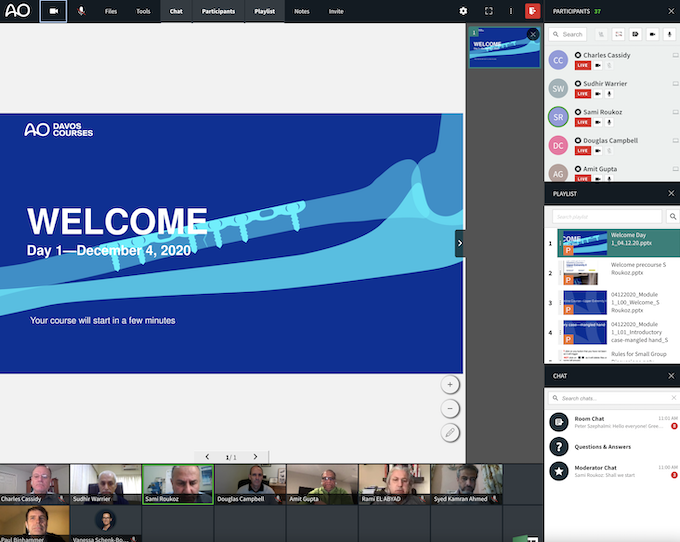 22nd - 25th March 2019
In a landmark visit, Mr Campbell was invited to address 5,500 surgical delegates at the 1st International Technology & Innovation Summit of Orthopaedics & Trauma (IT IS Trauma) in Beijing, China as a part of the 12th Chinese PLA General Hospital Orthopaedic Trauma Summit. Along with Dr Mark Lee (USA), Dr Les Grujic (Australia) and Professor Suthorn Bavonratanavech (Thailand), keynote lectures were delivered with simultaneous digital on-screen translation as well as live audio translation.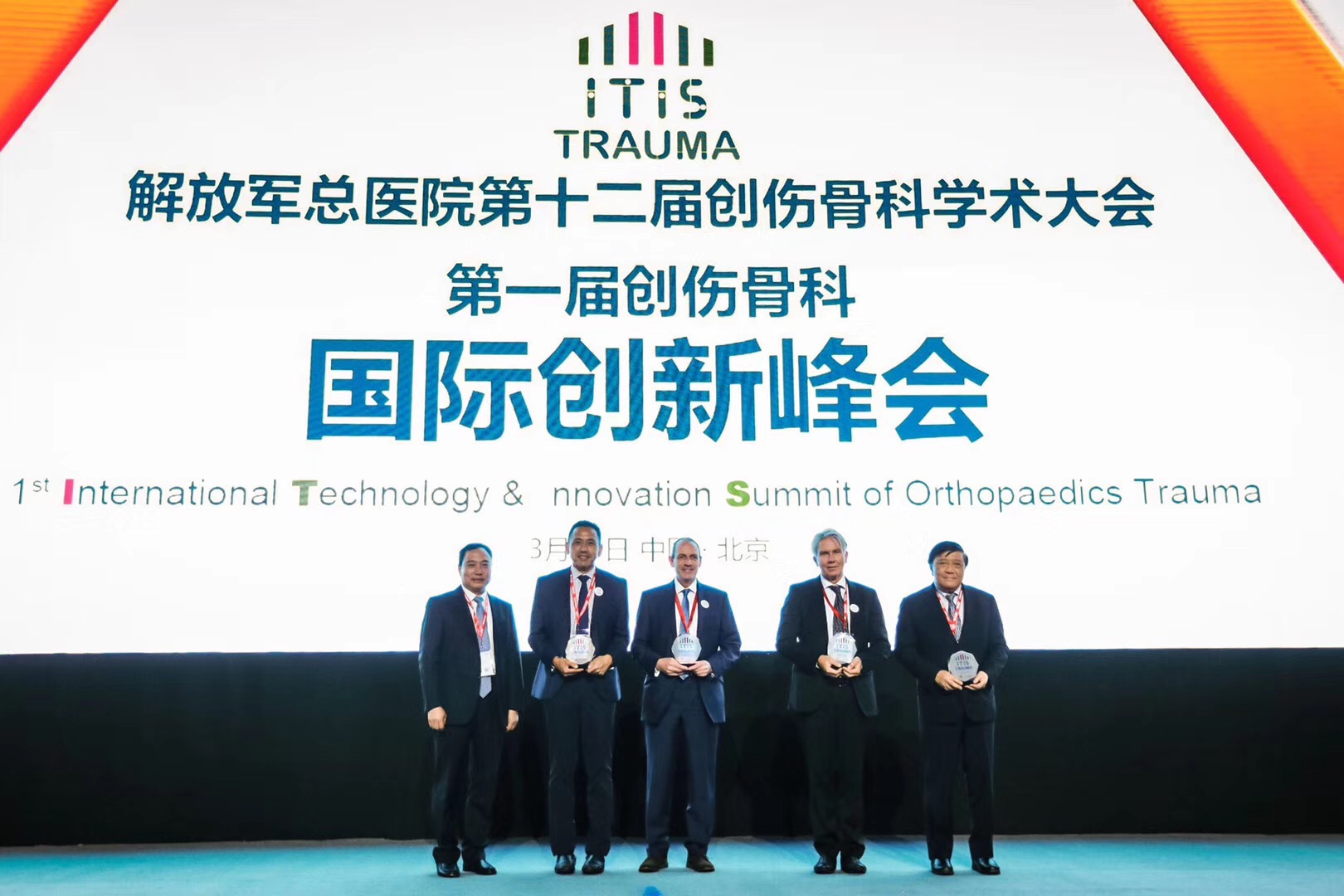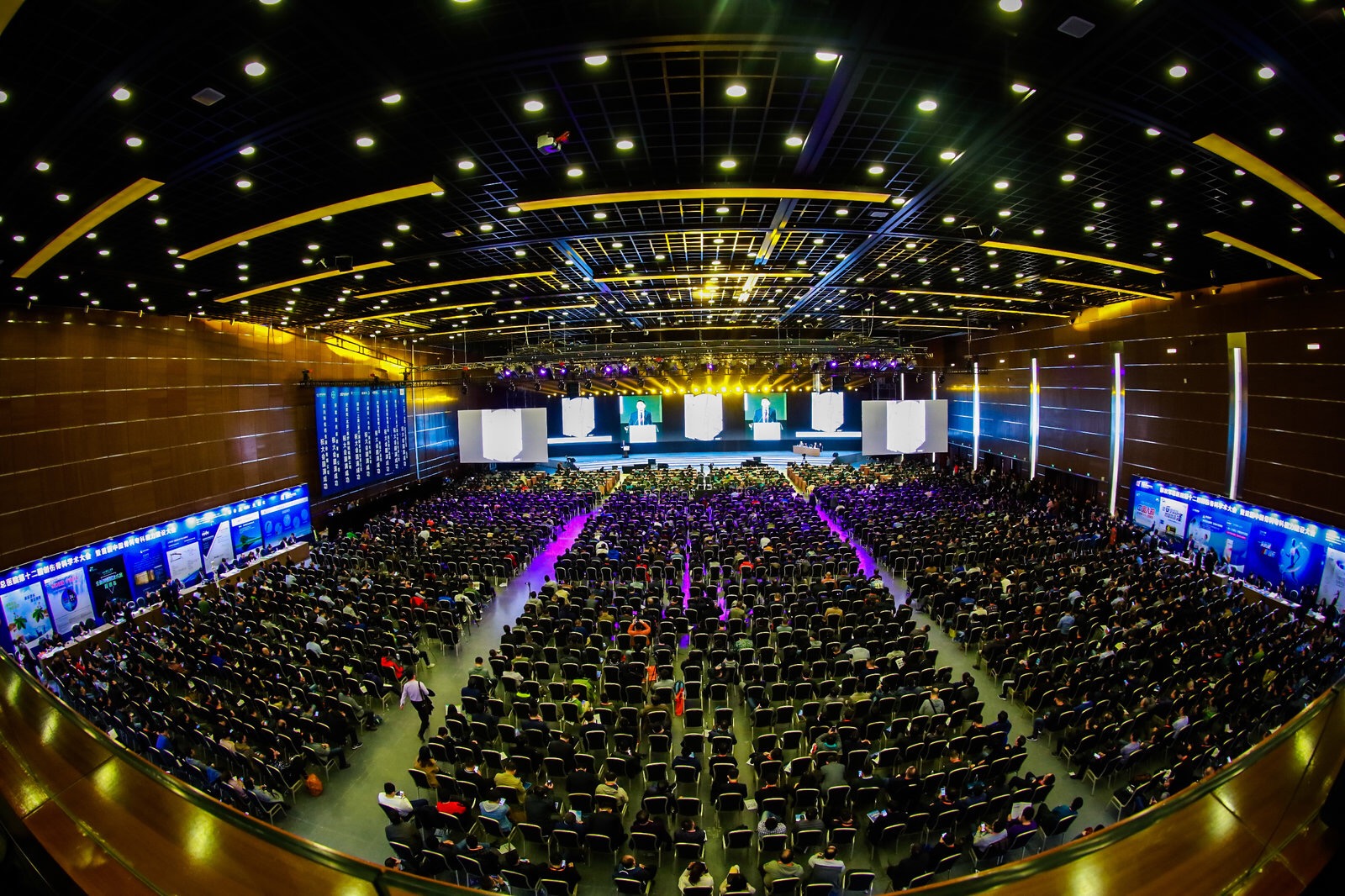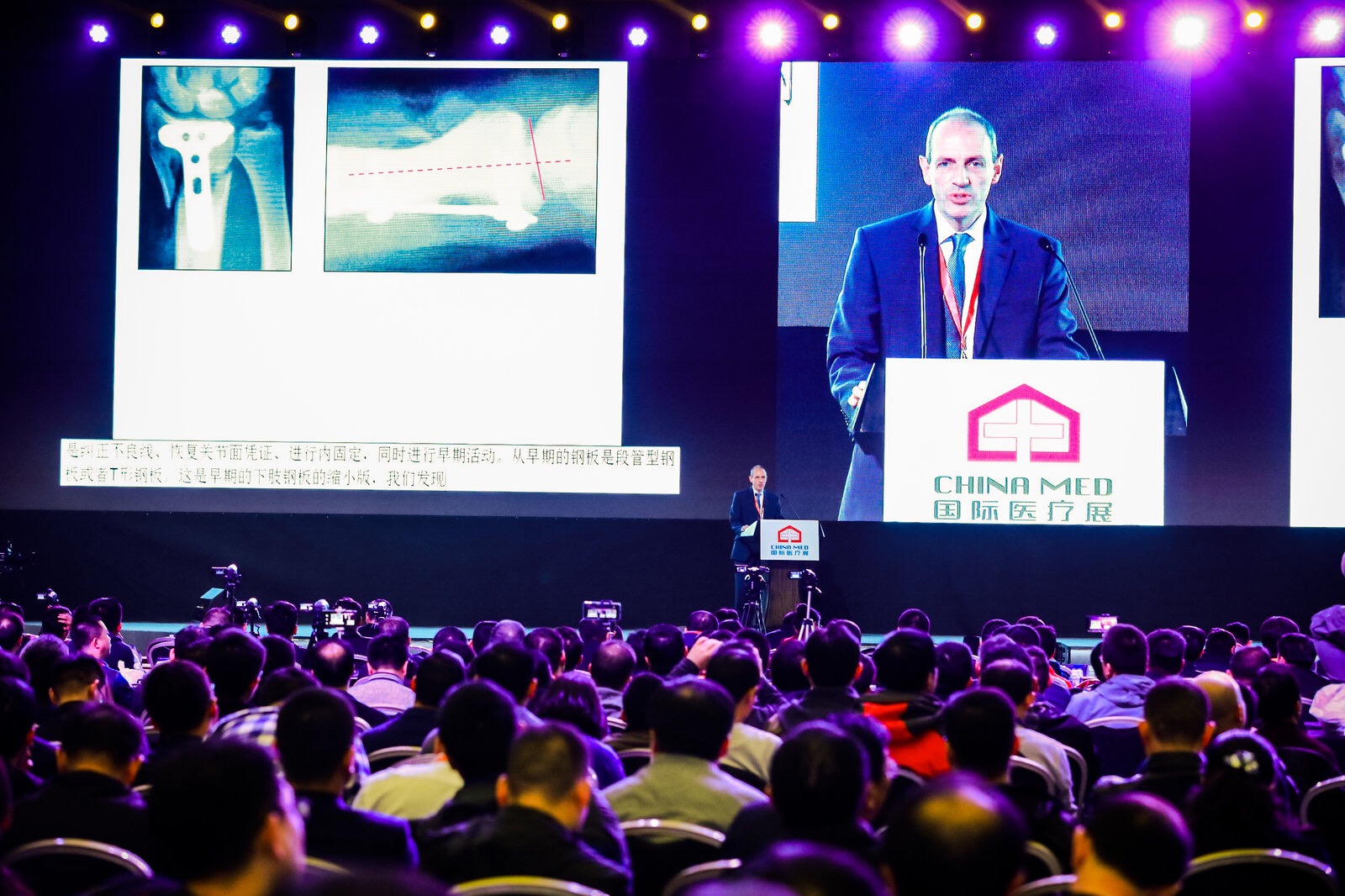 Mr Campbell delivered a 30 minute lecture detailing the technical and surgical innovations in implants used to treat wrist fractures over the past two decades, explaining how multiple advances in mechanics, materials and surface finishes have led to an enormous improvement in outcome.
Prior to this conference, Mr Campbell was the invited guest at the Ji-Shui Tan Hospital ? the largest Trauma Hospital in Beijing. He spent one day at their Hand Surgery Department, which spreads over 3 floors, undertaking a clinical review of many of the in-patients and also delivering two lectures to the Academic Department of Hand Surgery.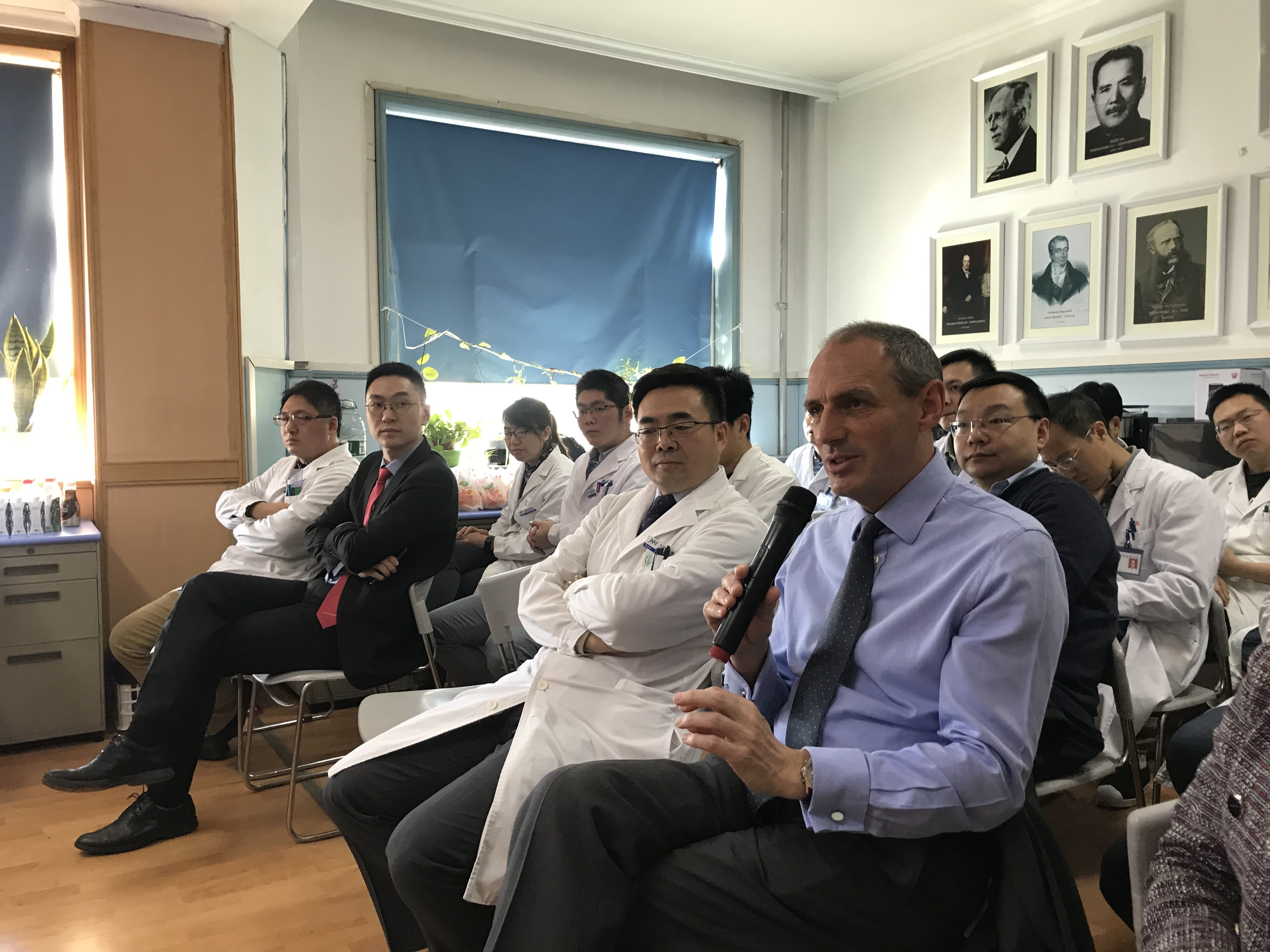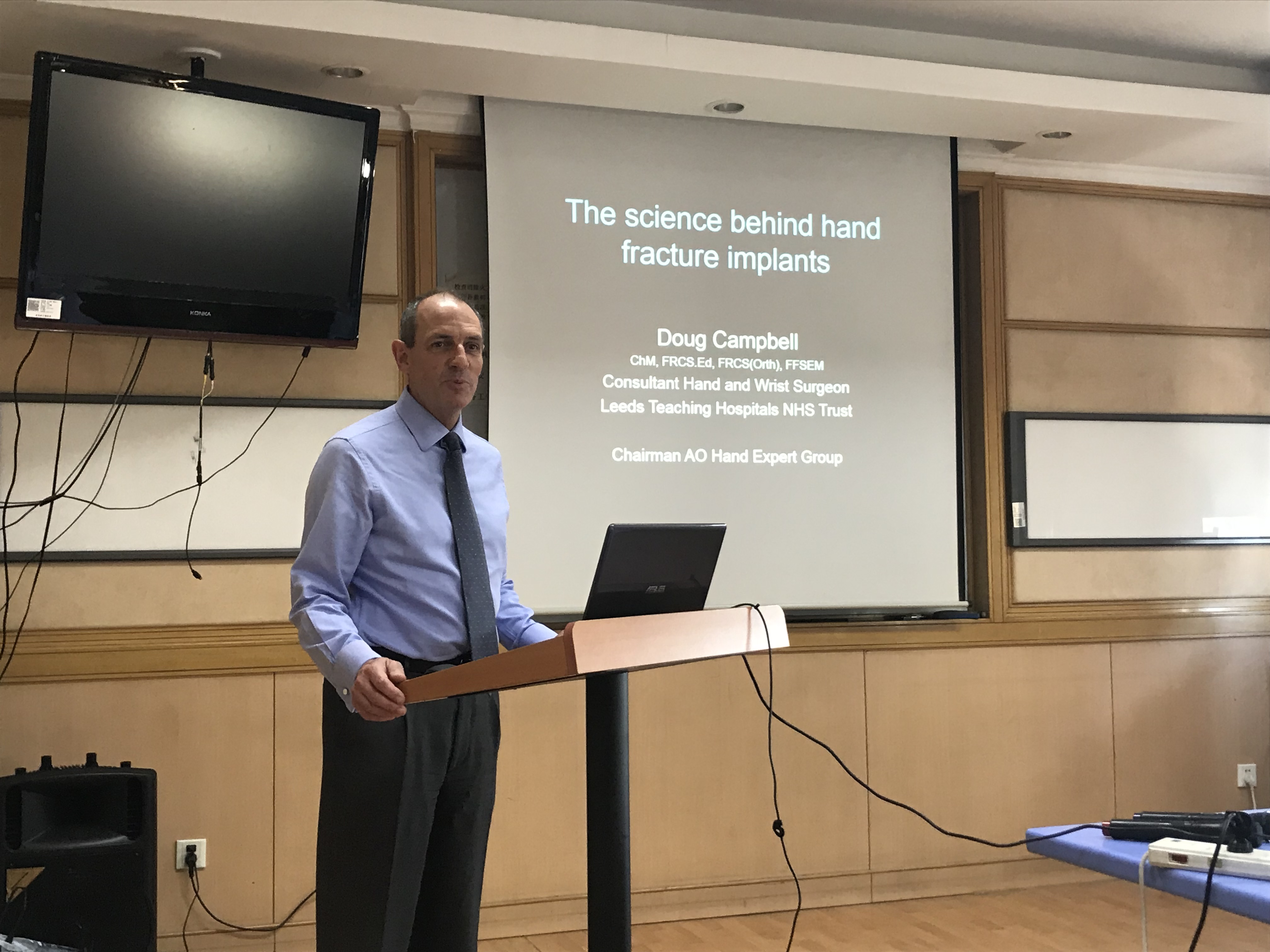 Mr Campbell later undertook a live online Webinar that lasted more than 4 hours and was broadcast live to more than 16,000 online participants in China, Japan, Australia, India and Singapore. In this session that was sponsored and supported by Johnson & Johnson, he delivered 5 instructional lectures and performed several surgical procedures for demonstration to the participants of key techniques in internal fixation surgery in the hand and wrist.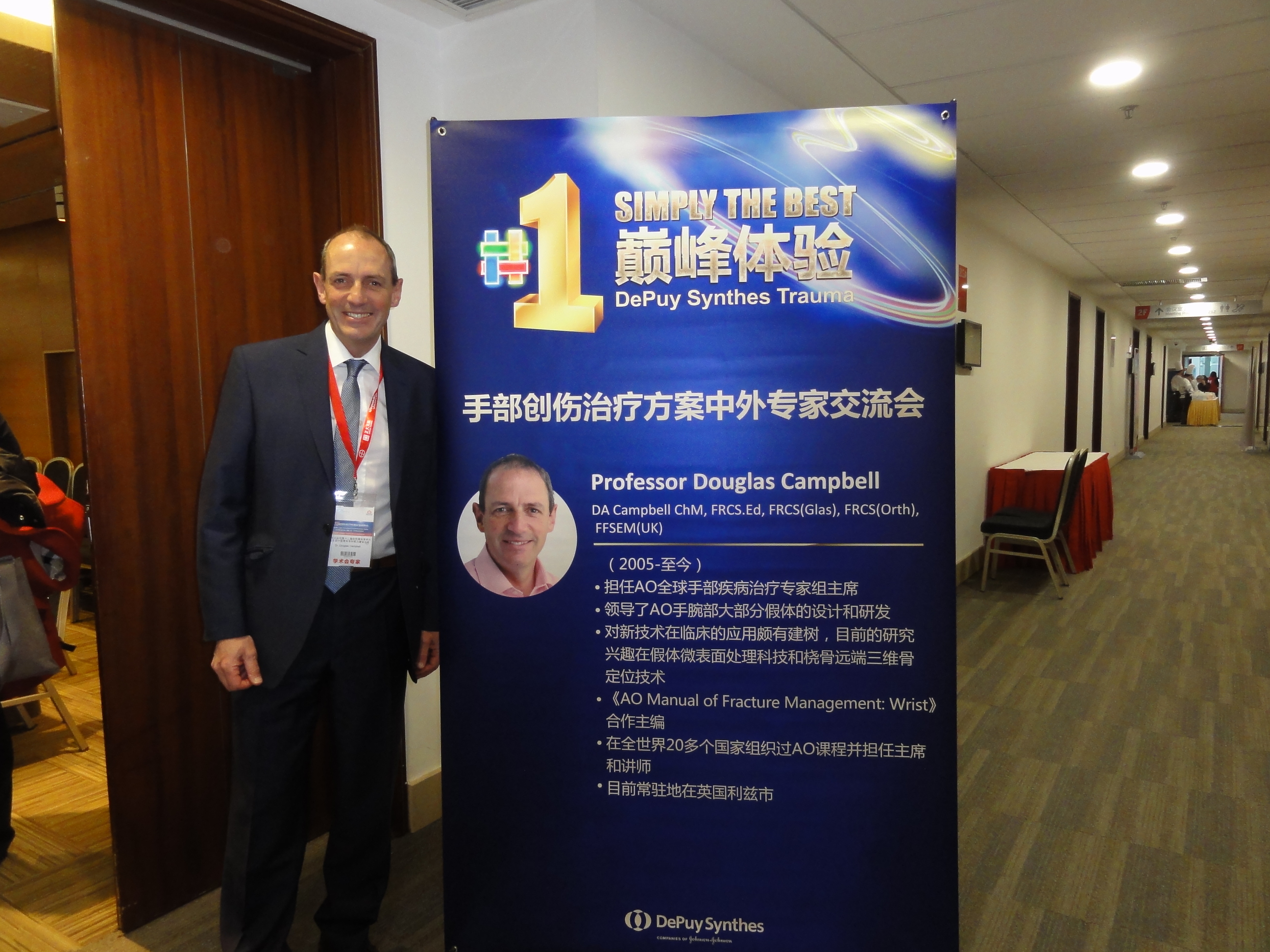 Professor Yimin Chai, Professor of Hand Surgery from Shanghai No 6 People?s Hospital in Beijing co-chaired this symposium and is shown below with Mr Campbell and the team of people who made this event possible.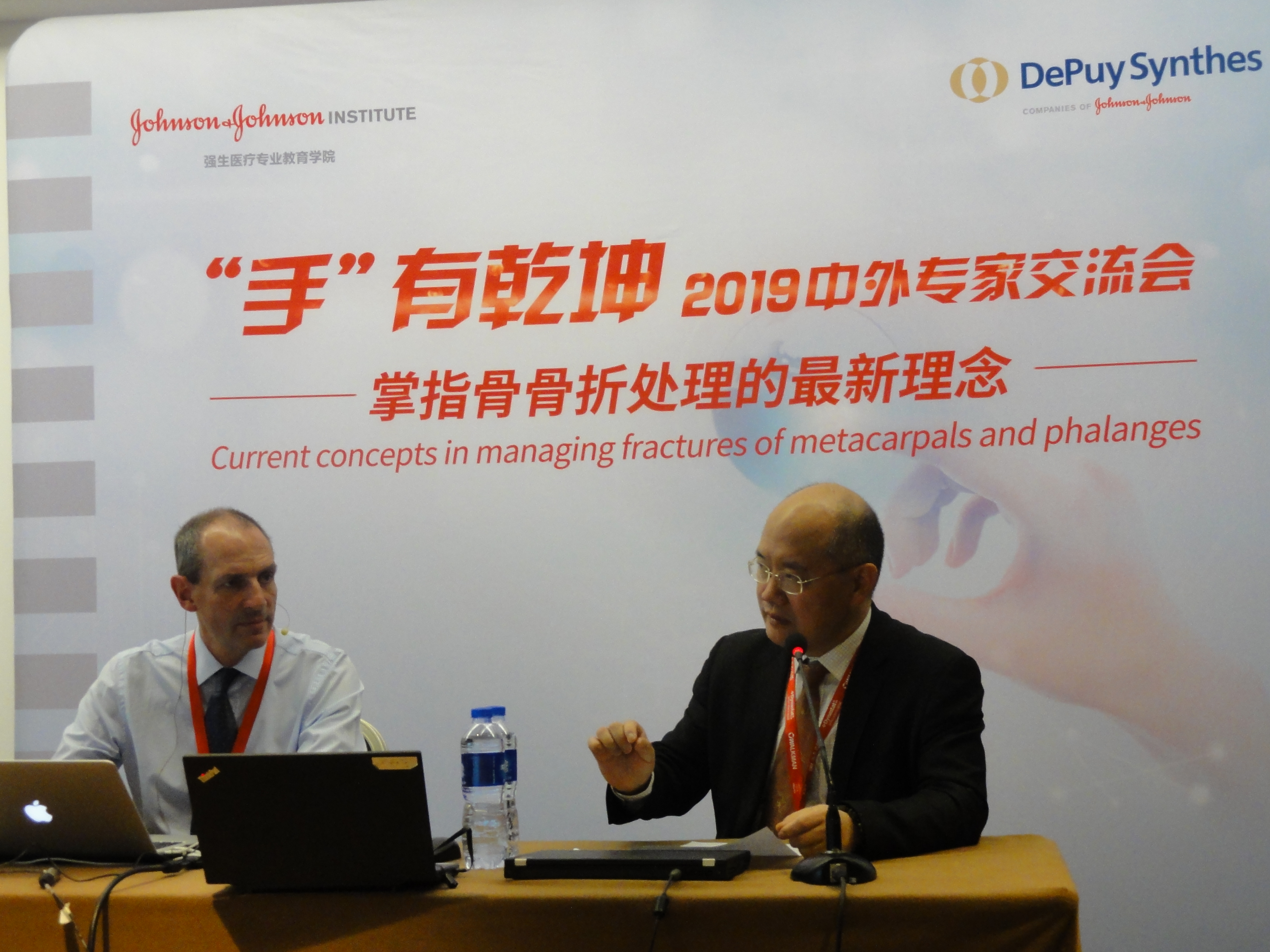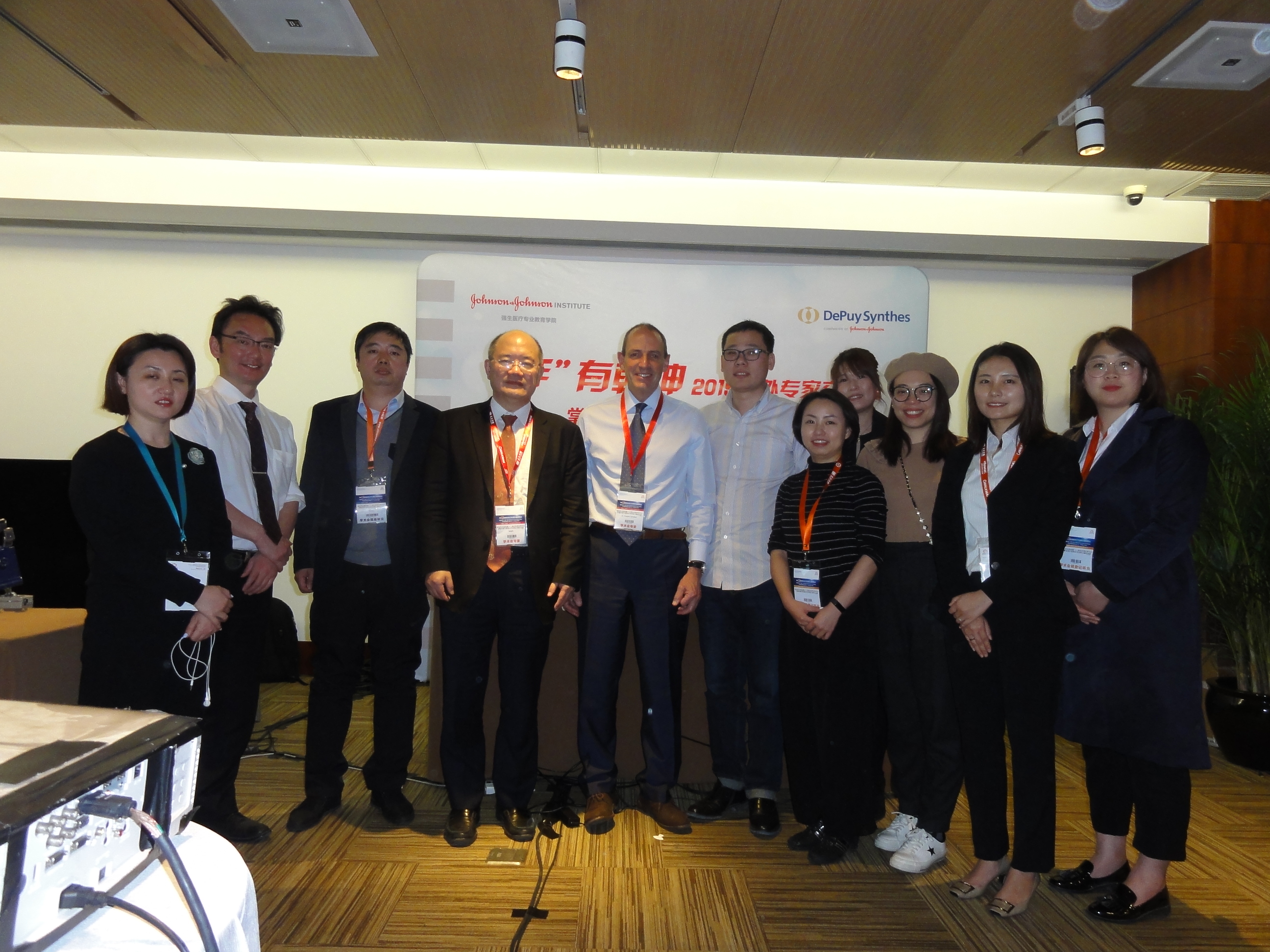 Mr Campbell then travelled to Nantong, where he delivered a day-long educational program to the Hand Surgery Department of the Affiliated Hospital of Nantong University, including live instruction during surgery that was relayed to participants by video around the city?s hospitals.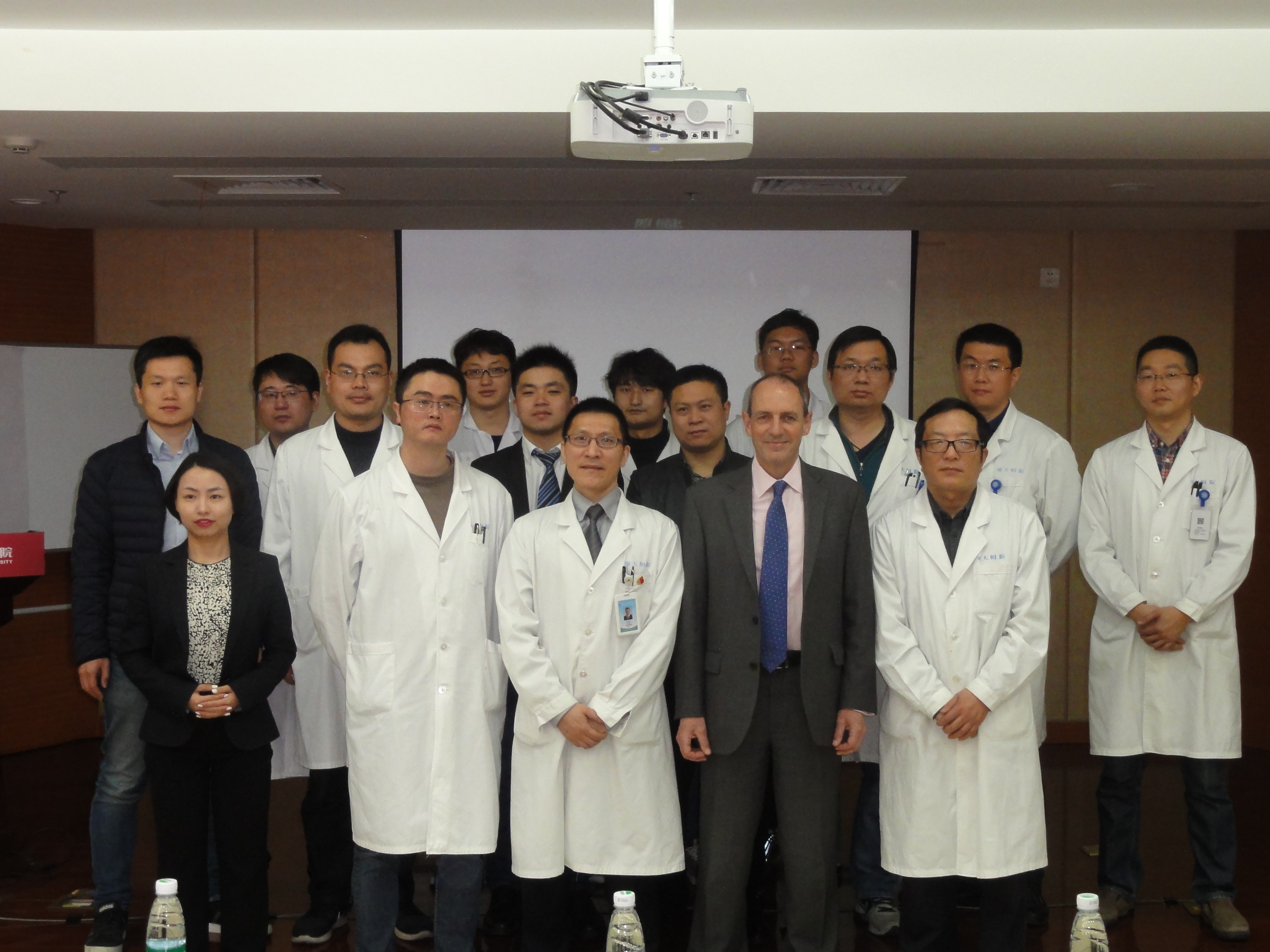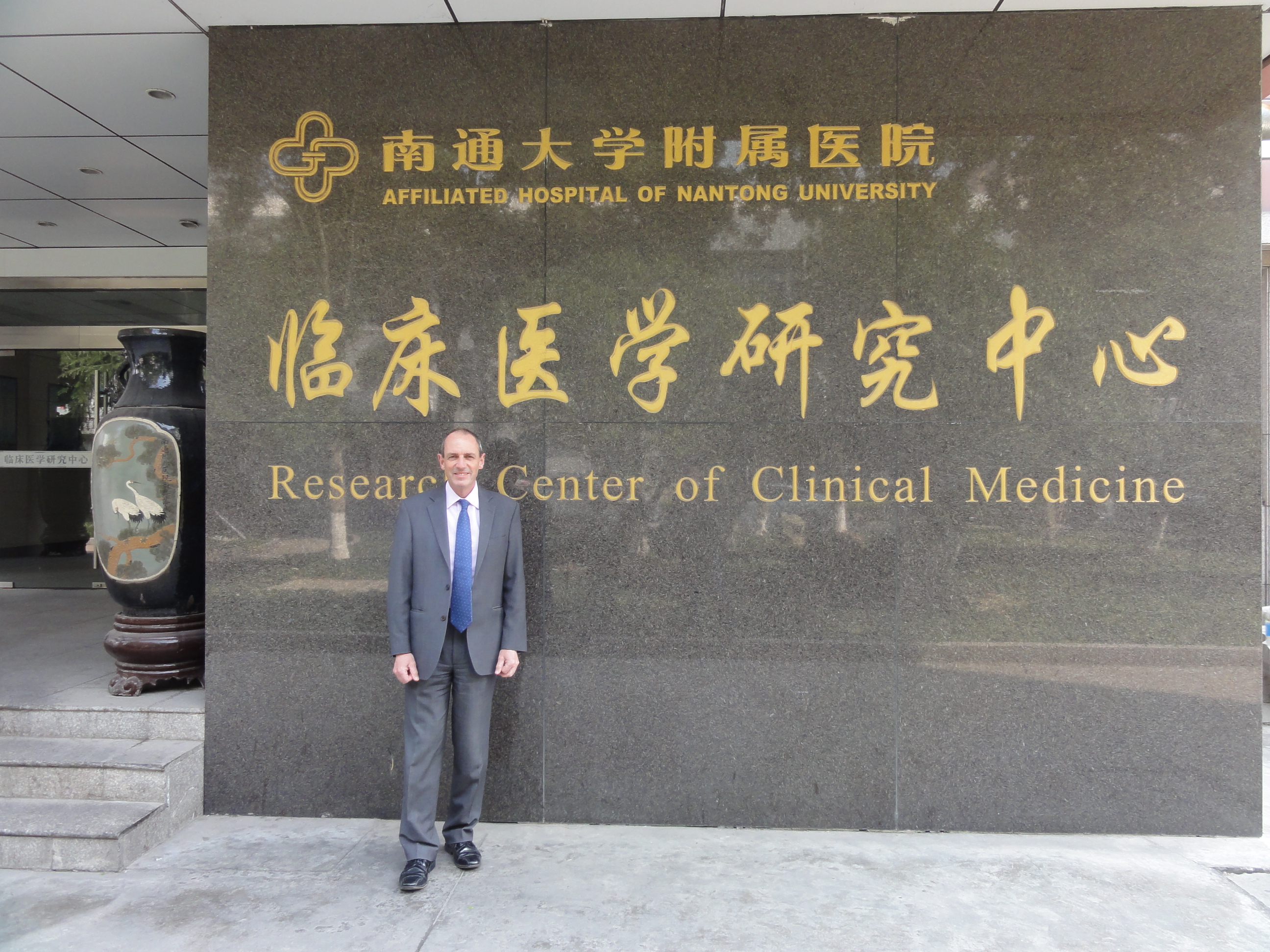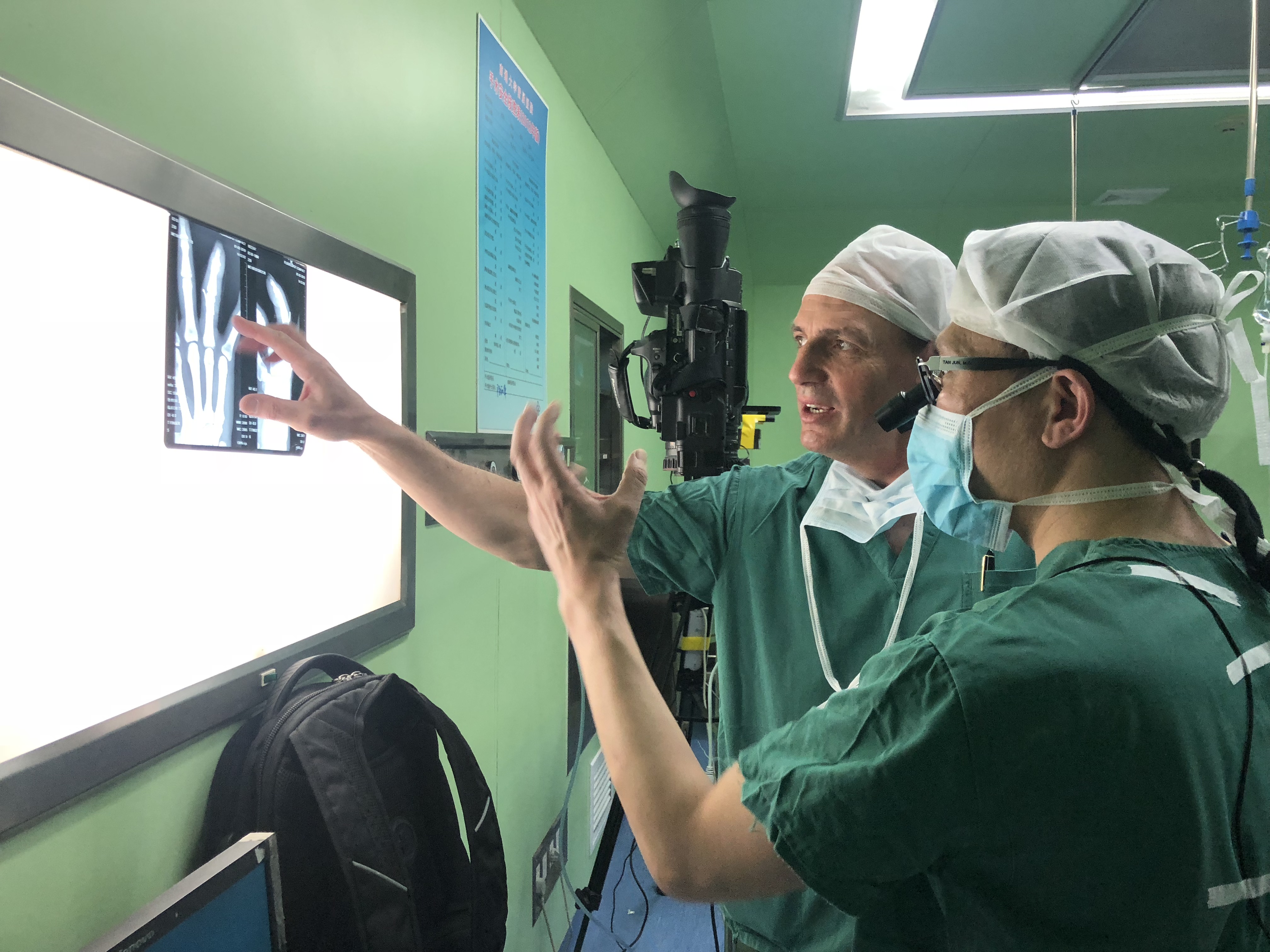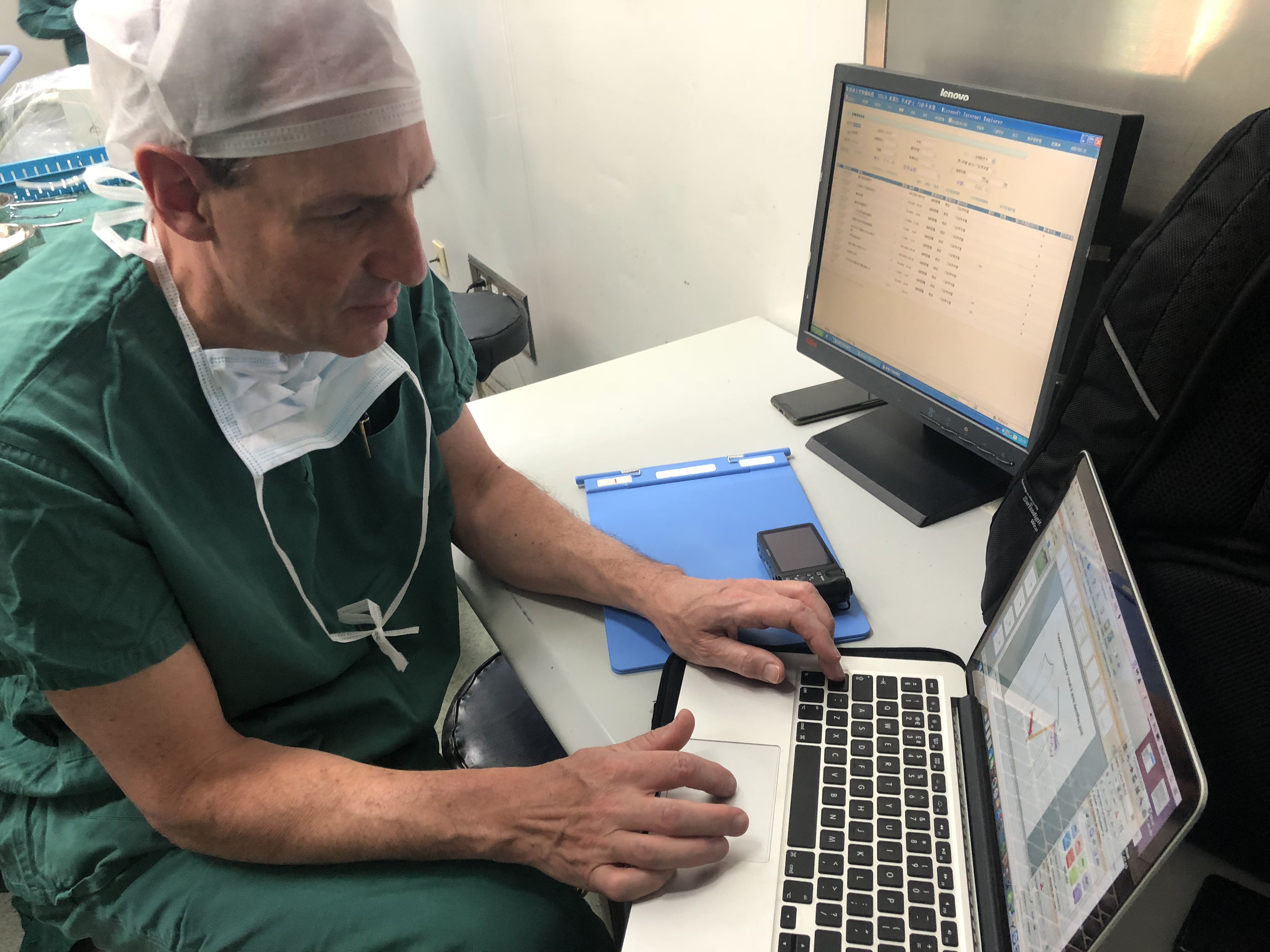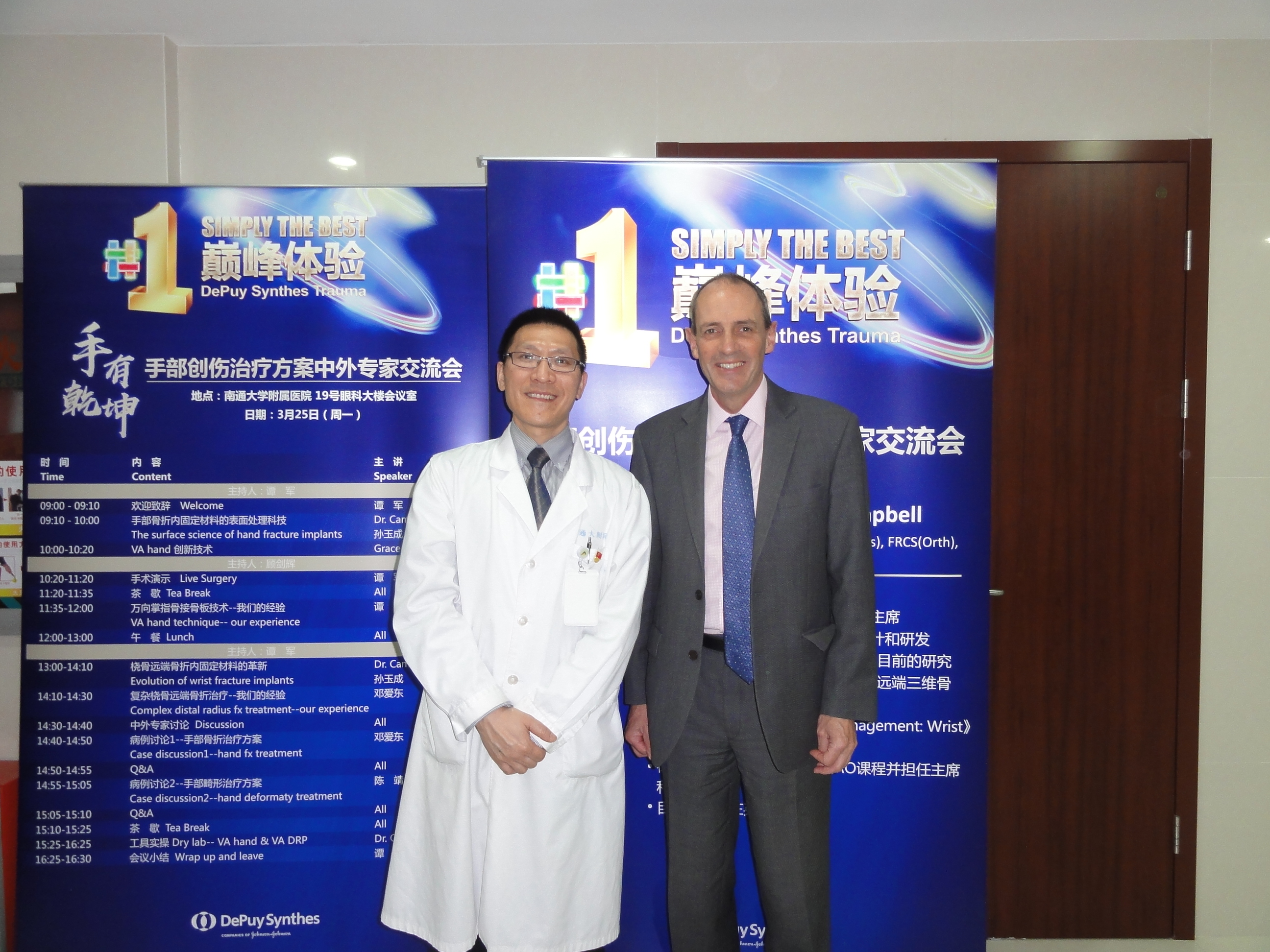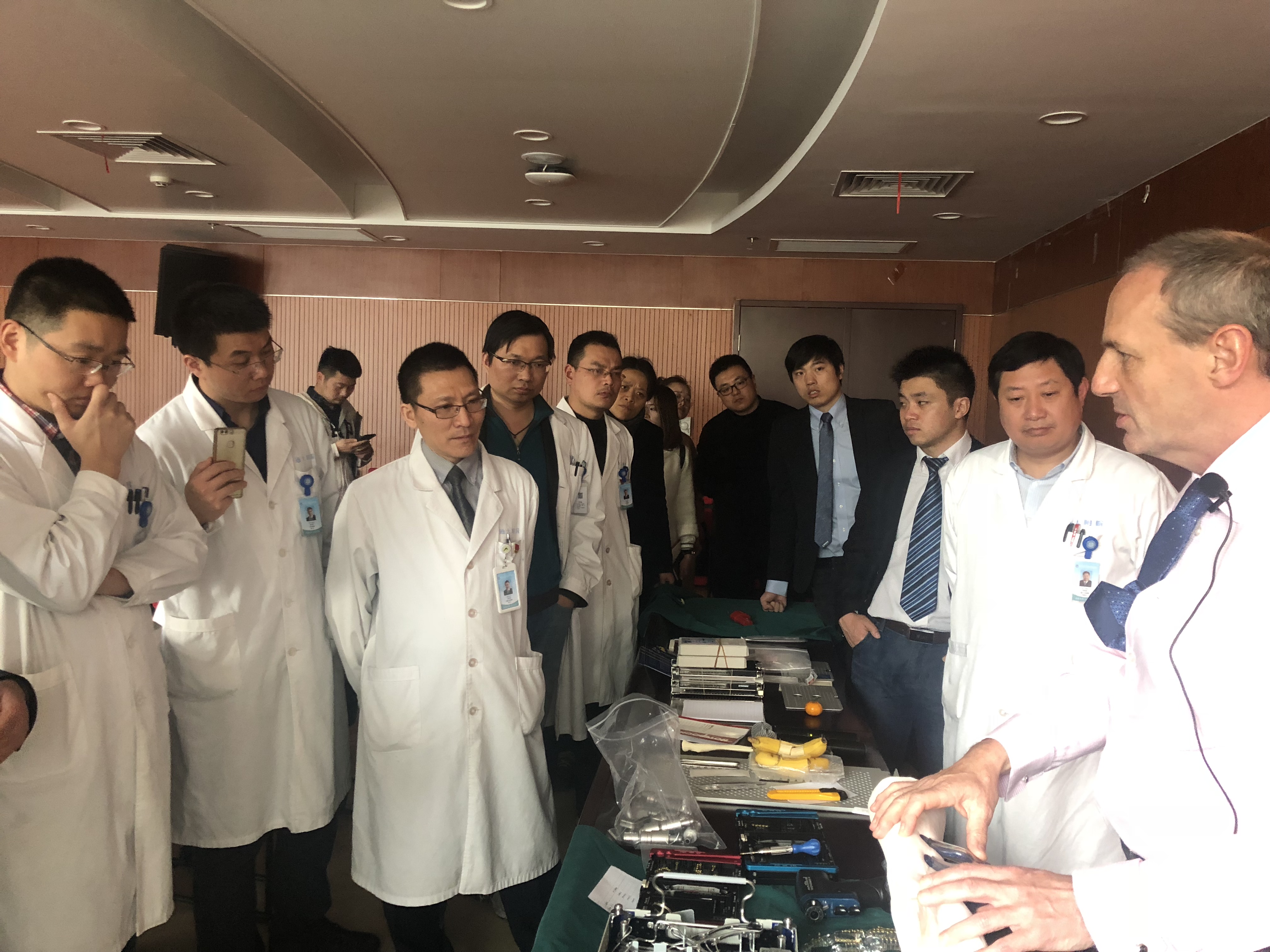 12th - 15th September 2018
Mr Campbell was invited to travel to Cartagena on the Caribbean coast of Colombia to chair and run a new course for South American hand and wrist surgeons. This course was the first in the world to use new surgical equipment designed specifically by the AO Hand Expert Group (chaired by Mr Campbell) for managing fractures in the small bones of the hand.
The course was also the first in the world to use a series of new educational videos produced by Mr Campbell and his surgical colleagues from Switzerland and America to demonstrate the precise techniques used in managing these injuries.
The photographs show him demonstrating the equipment to senior local surgeons who would act as the Instructors for the participants of this 4 day course.
28th - 30th April 2017
Mr Campbell was invited to attend the AO India National Trauma Conference in Chennai in April, delivering several lectures including a key note lecture on 'Avoiding complications in distal radius fractures'.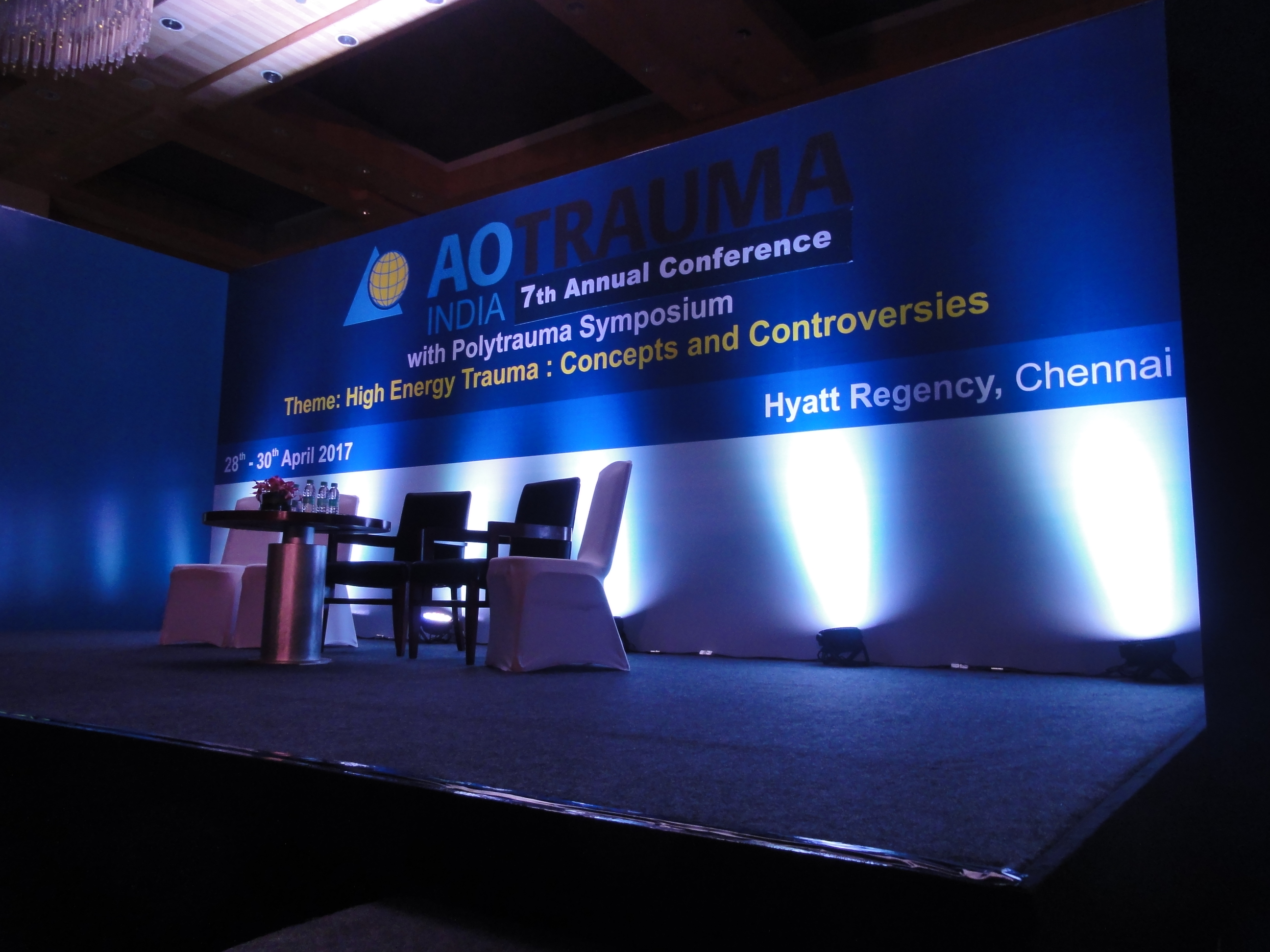 3rd March 2017
A two day Sports & Exercise Medicine Symposium was held at The Emirates Cricket Ground, home of Durham CCC.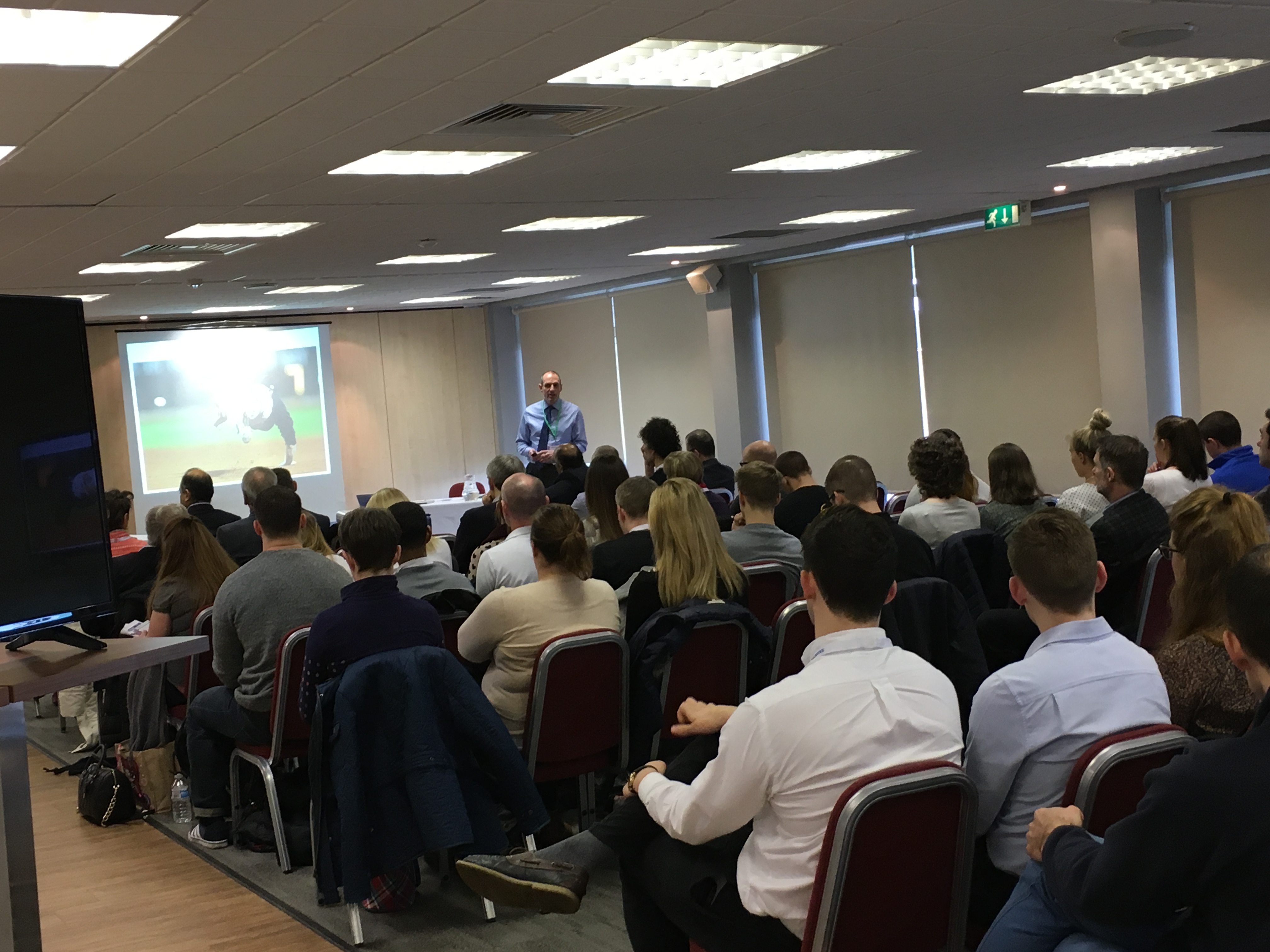 Mr Campbell was invited to present the topic of
'Assessment & Management of the Injured Hand & Wrist in the Athlete'
to an audience of Sports Physicians, GPs, Physiotherapists, Radiologists and Orthopaedic
Surgeons.
7th October 2016
A live WebCast transmission took place from Basel, Switzerland when Mr Campbell presented a live surgery demonstration of 'Management of Rolando Fractures of the Thumb'. The demonstration was supported by a presentation on the topic from Dr Matej Kastelec (Ljubljana, Slovenia). A video of the WebCast is available on the AO Foundation website.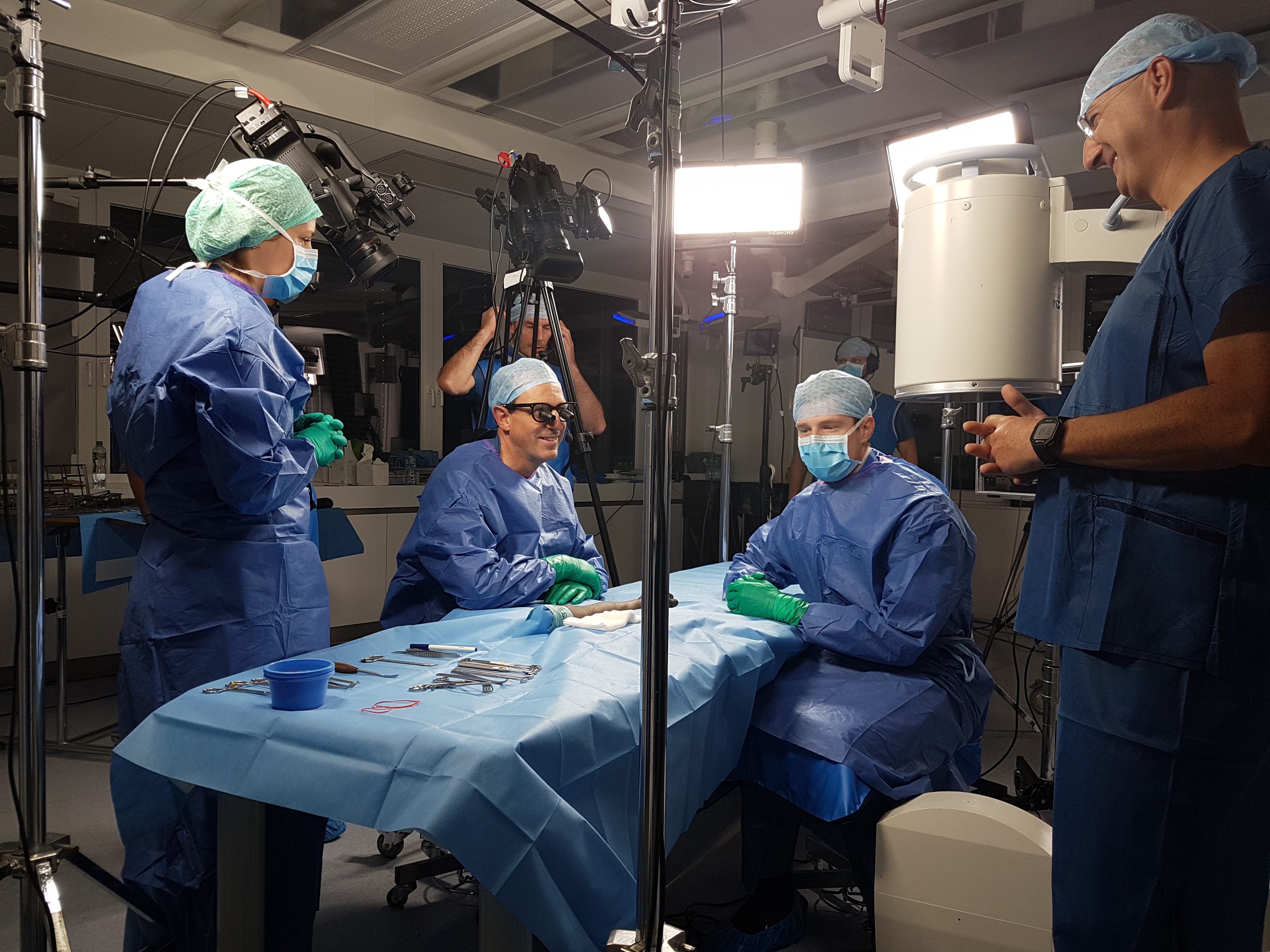 22nd July 2016
A live online interactive presentation was given by Mr Campbell on the topic of 'Problems involving the Distal Radioulnar Joint'. The one hour presentation was transmitted across the globe and participants from over 20 countries joined the Event Room, asking live questions of the Chat Moderator, Dr Danny Herren (President of the Swiss Hand Surgery Society).
20th May 2016
Mr Campbell was awarded an Honorary Fellowship of the Royal College of Physicians and Surgeons of Glasgow at a ceremony at the College on Friday 20th May 2016.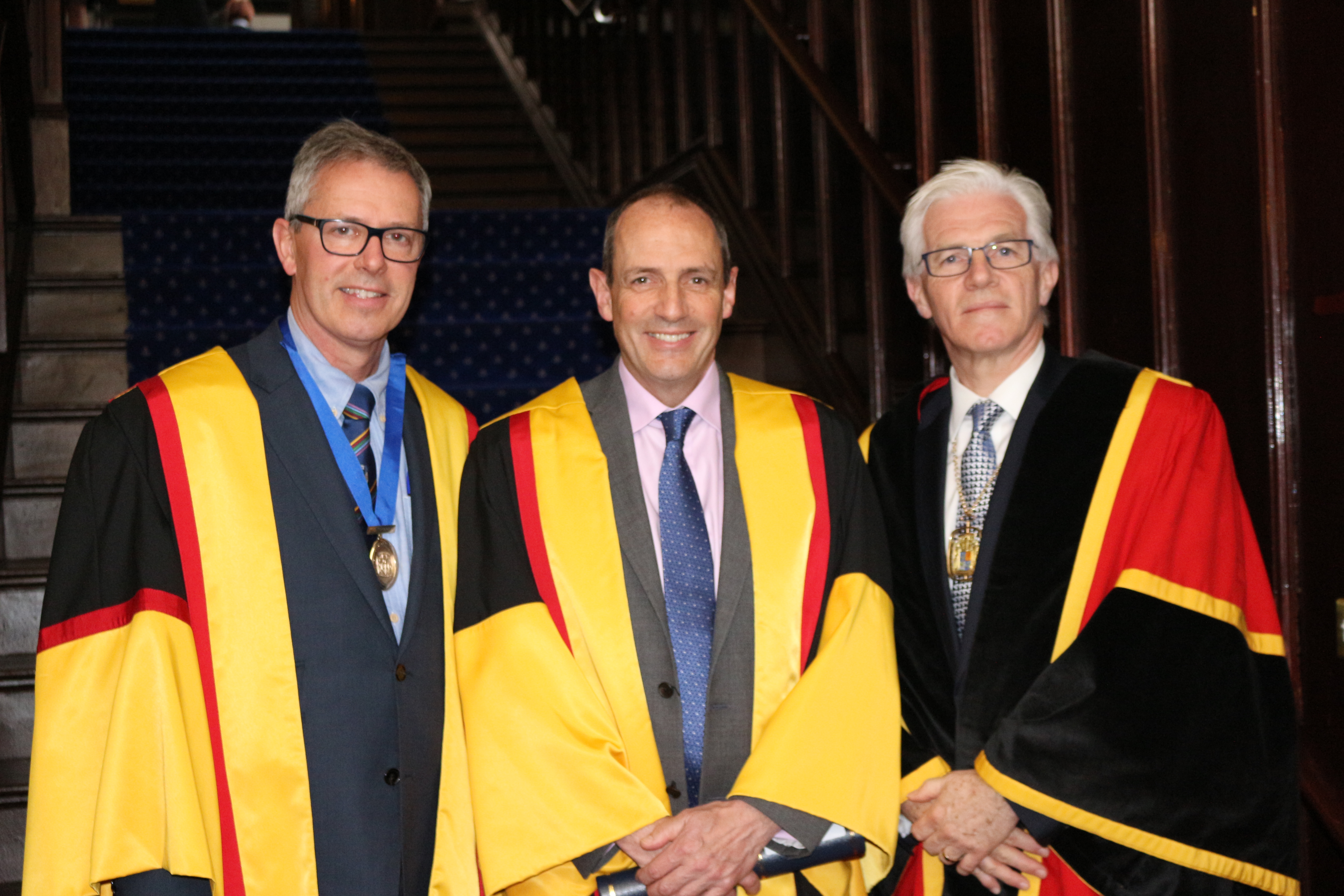 His citation to the College noted his contribution to, and distinction within, his profession.
20th April 2016
A one-day symposium and medical update was held at the headquarters of the England Cricket Board (ECB) at Lords Cricket Ground in London for all the medical staff who work within county and international cricket in England.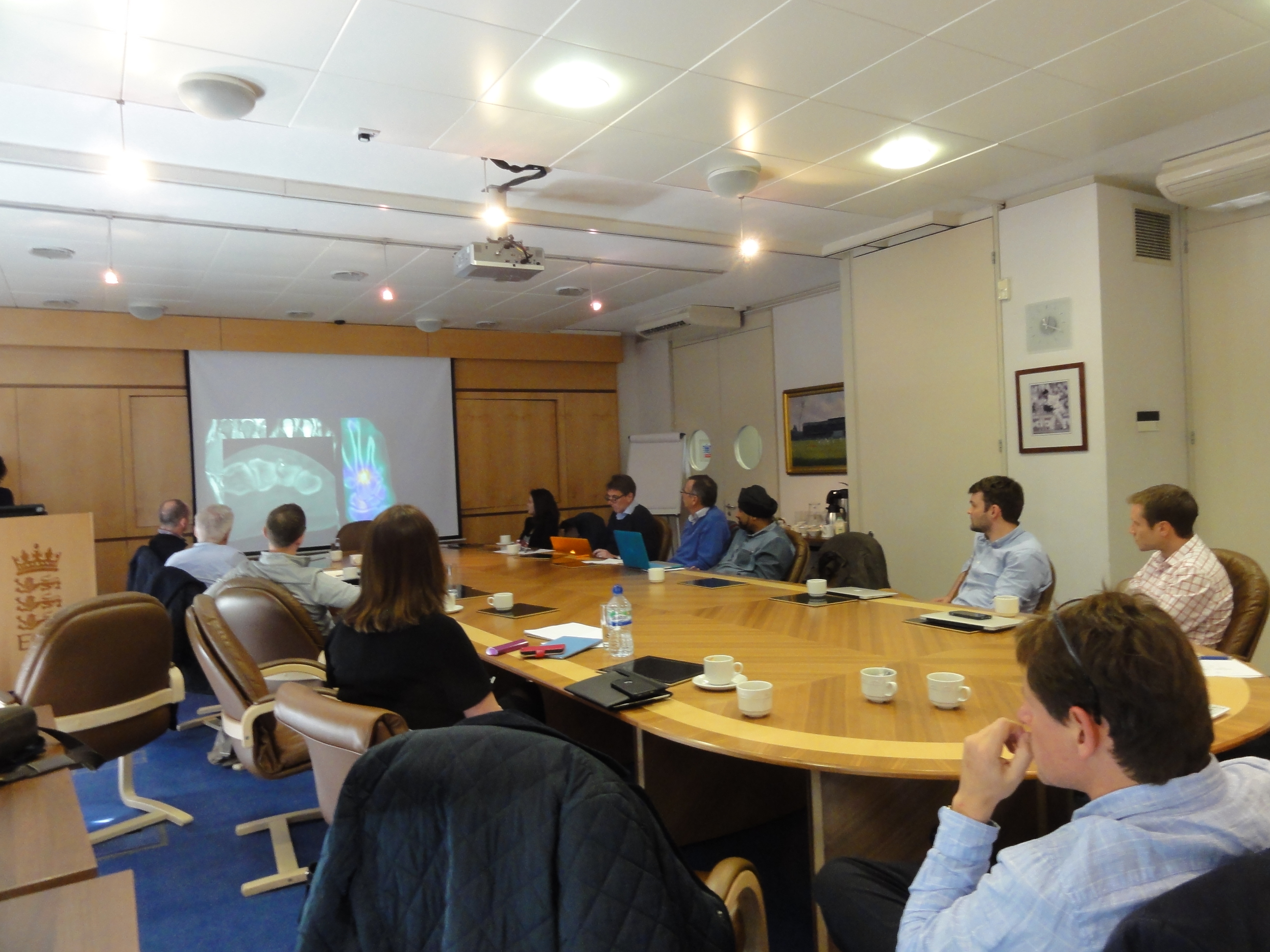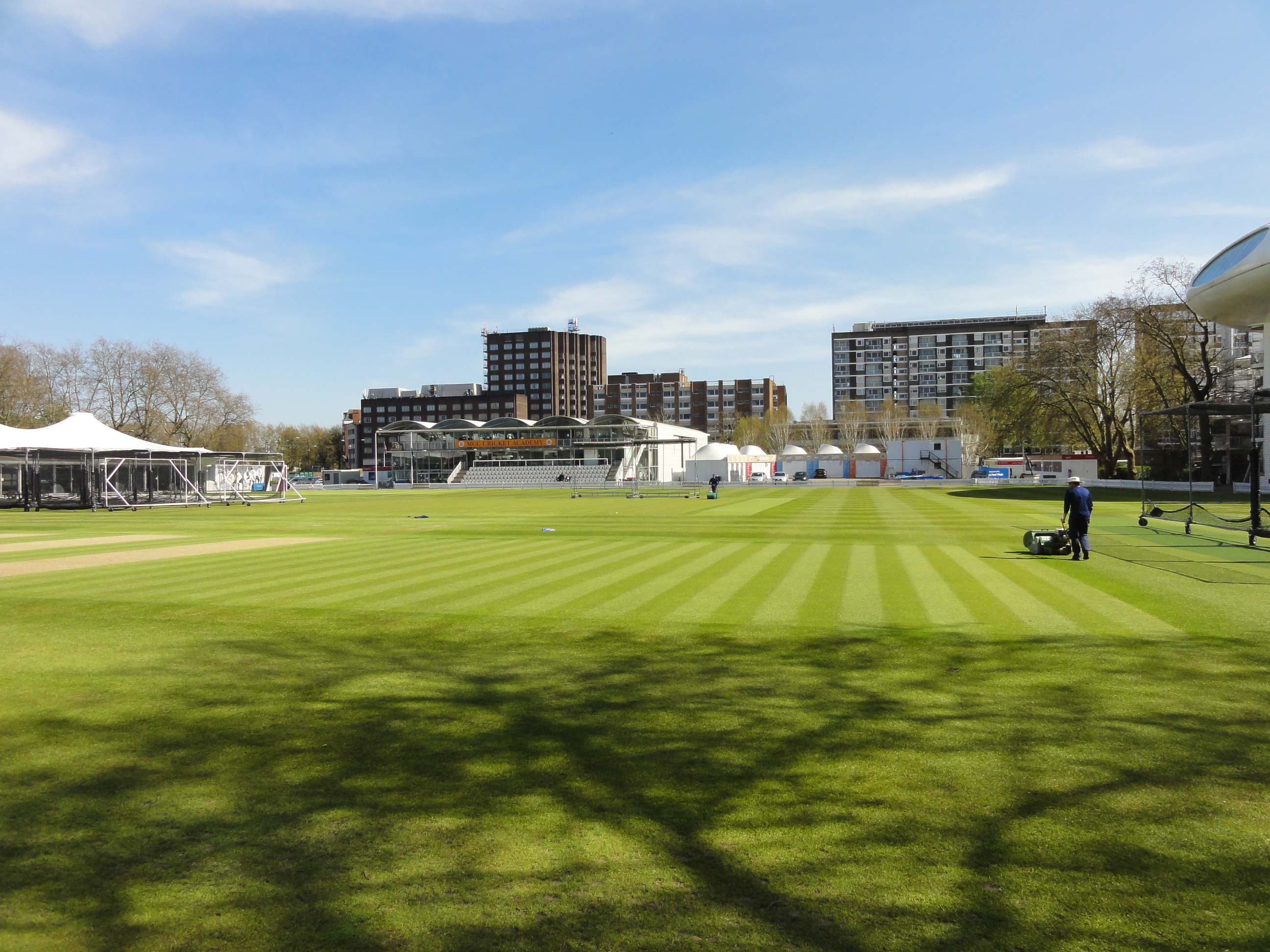 As a specialist medical adviser to the England Cricket Team and 5 county cricket sides, Mr Campbell gave a one-hour presentation on 'Finger Injuries in Cricket' and enjoyed an unofficial tour of the ground on a glorious spring day.
5th - 6th November 2015
The Advanced Wrist Course was held at The Enterprise Centre in Derby over 2 days. A small experienced faculty from the USA, Germany, Spain and the UK presented topics at the cutting edge of current wrist surgical research and practice, discussing contemporary views and techniques.
Mr Campbell gave presentations on;
'Tips on Clinical Examination',
'Why we use Variable Angle Technology',
'Complications of the Darrach procedure',
'Scaphoid non unions',
'Scapholunate ligament problems - how do repair and reconstruction work?',
'ECU tendon problems',
'Sports related wrist injuries' and
'Radial styloid impingement'.
13th - 14th October 2015
The first Fortius International Sports Injury Conference (FISIC) was held at the Queen Elizabeth II Conference Centre in central London over 2 days. Delegates and speakers attended from all over the world.
Mr Campbell presented the findings of his work with the European PGA Tour in his talk 'Wrist Injuries in Elite Golfers'. A link to a video of this 10 minute presentation will appear shortly.
26th - 27th September 2015
Mr Campbell was a part of the Stadium Medical Team that provided match-day emergency medical advice for the Rugby World Cup games at Elland Road, Leeds.
Two games on consecutive days saw Italy defeat Canada in an exciting game of running rugby, and Scotland defeat the USA on a sun-drenched pitch.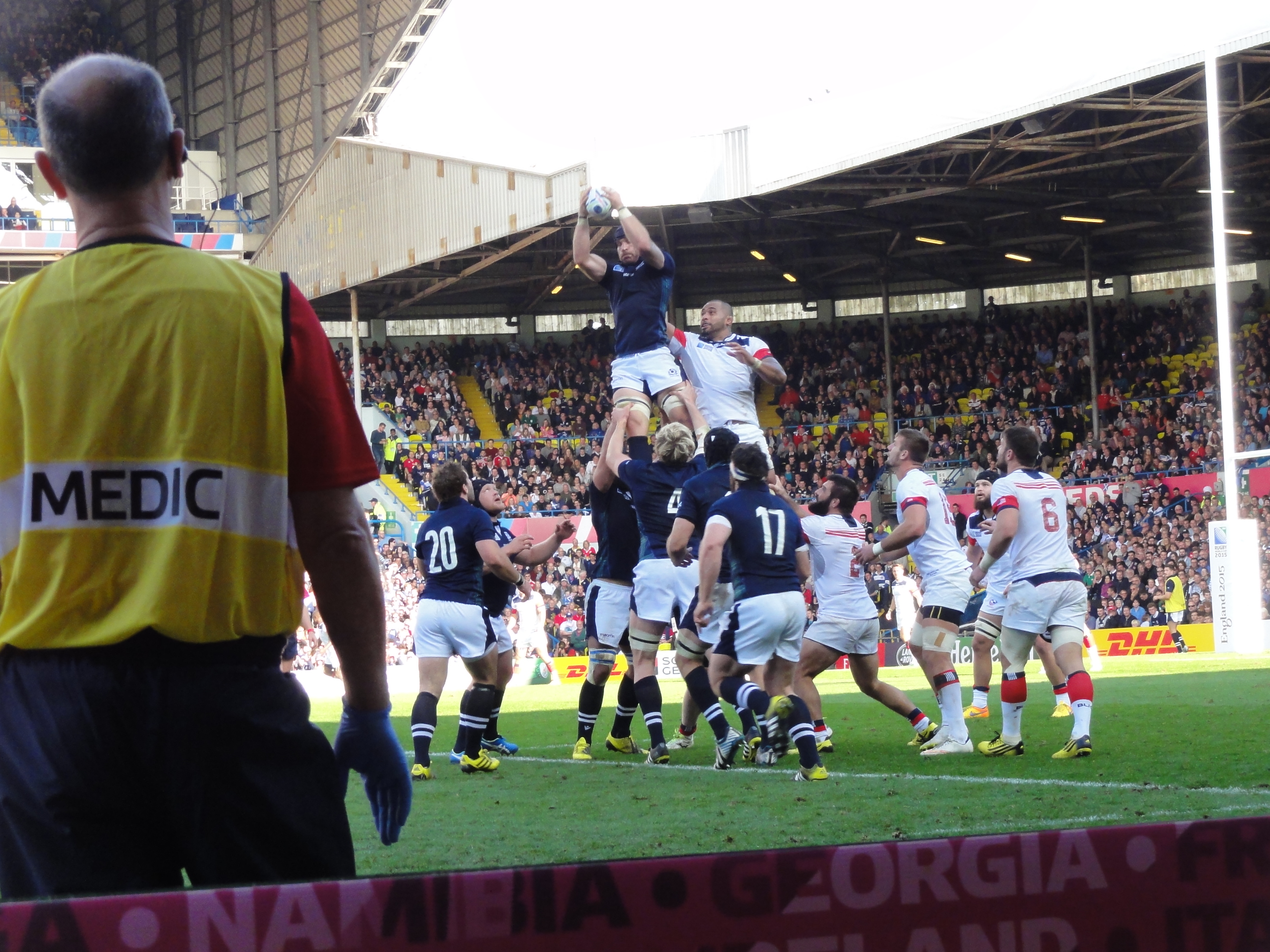 9th September 2015
Mr Campbell was invited to visit the Headquarters of Research & Development for Nike Golf in Fort Worth, Texas to discuss thoughts on injury generation, equipment modification and potential reduction in injury rates and severity.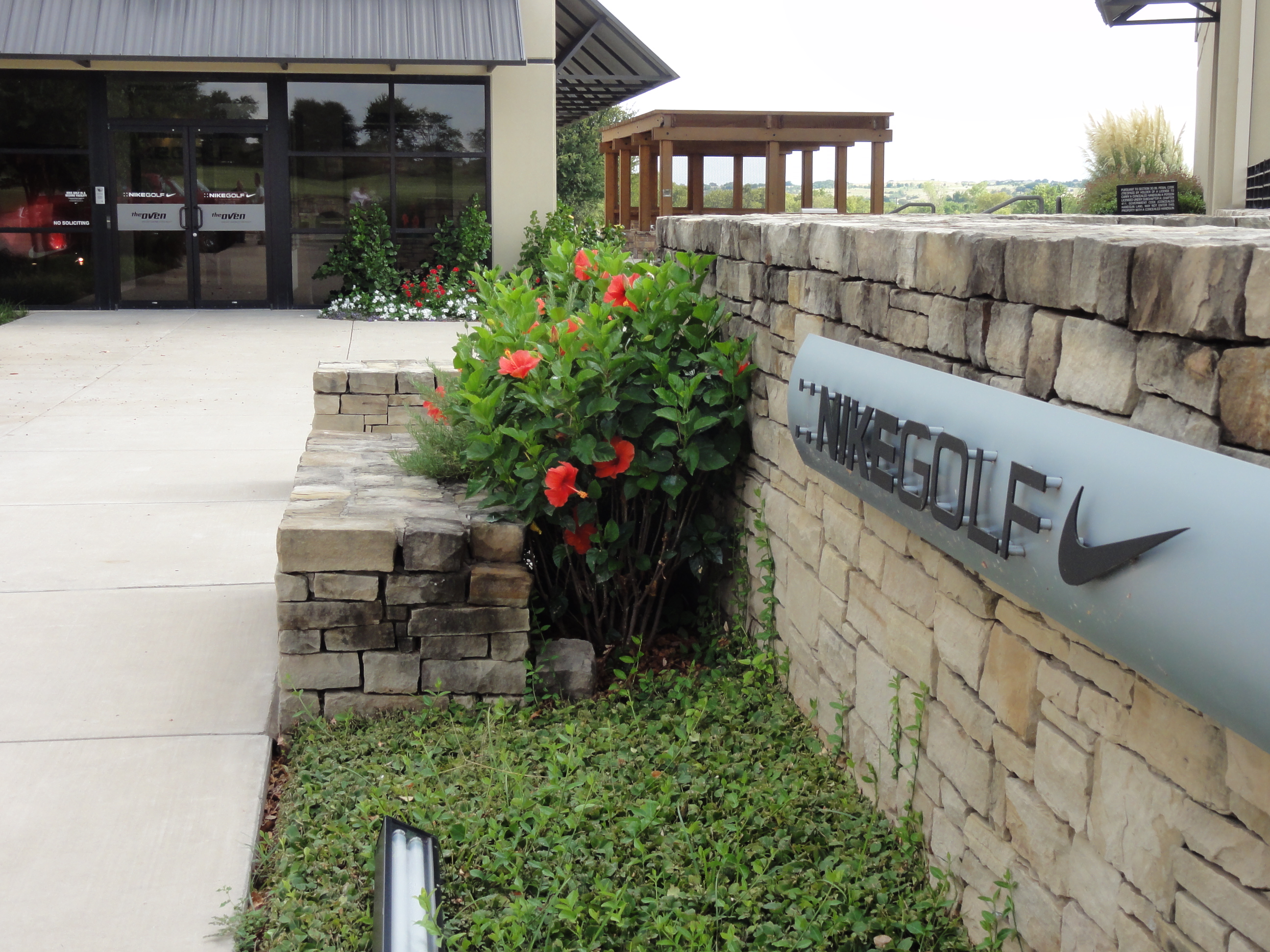 He was hosted by the Nike Director of Golf R & D, Mario LaFortune as well as experienced swing coach and Master Club Technician, Scott Kraul.
During this visit, Mr Campbell gave a short presentation on his own thoughts on wrist injury and was shown around the technical labs (known as 'The Oven') where Nike clubs and equipment are conceived, manufactured and tested.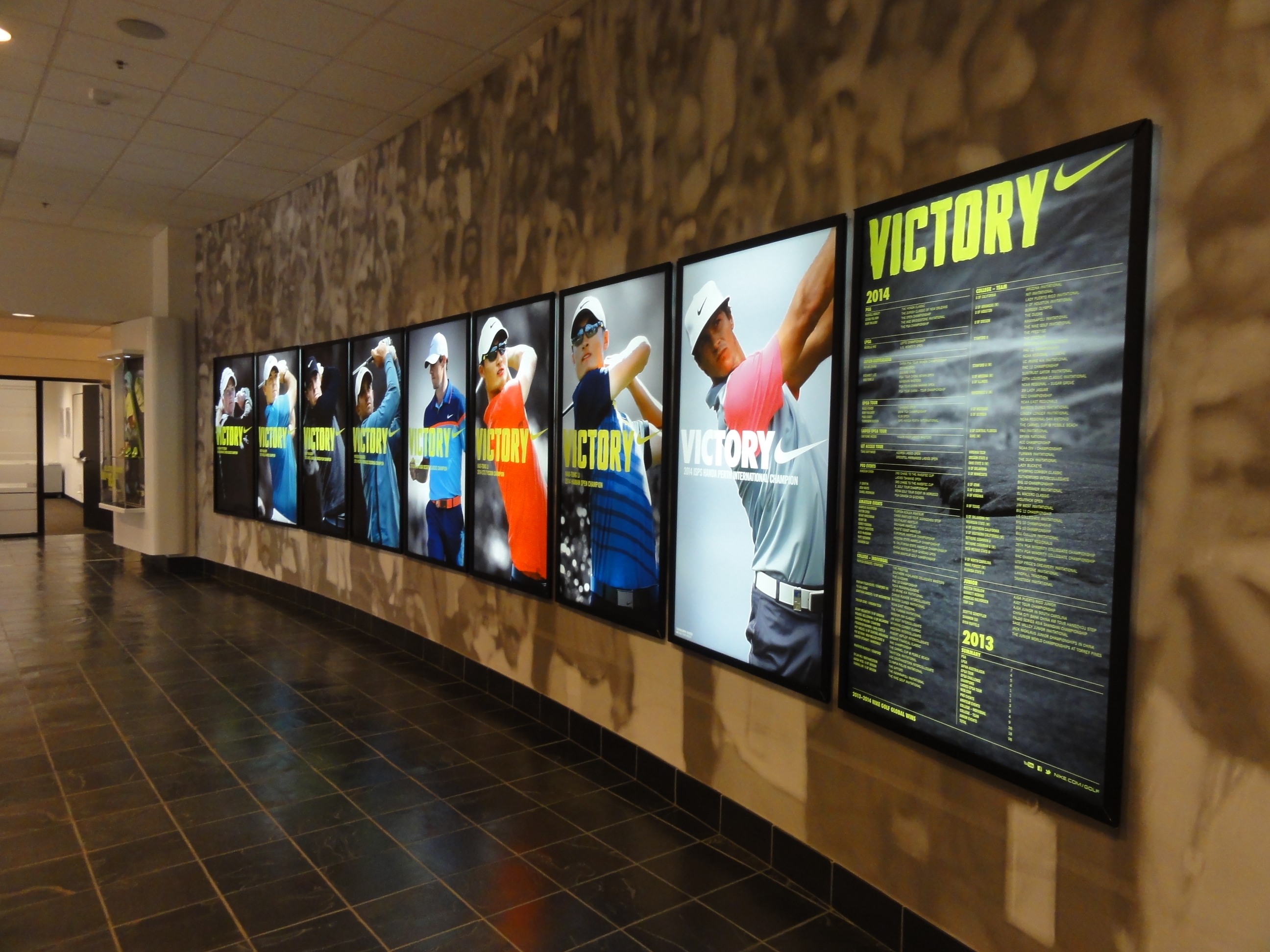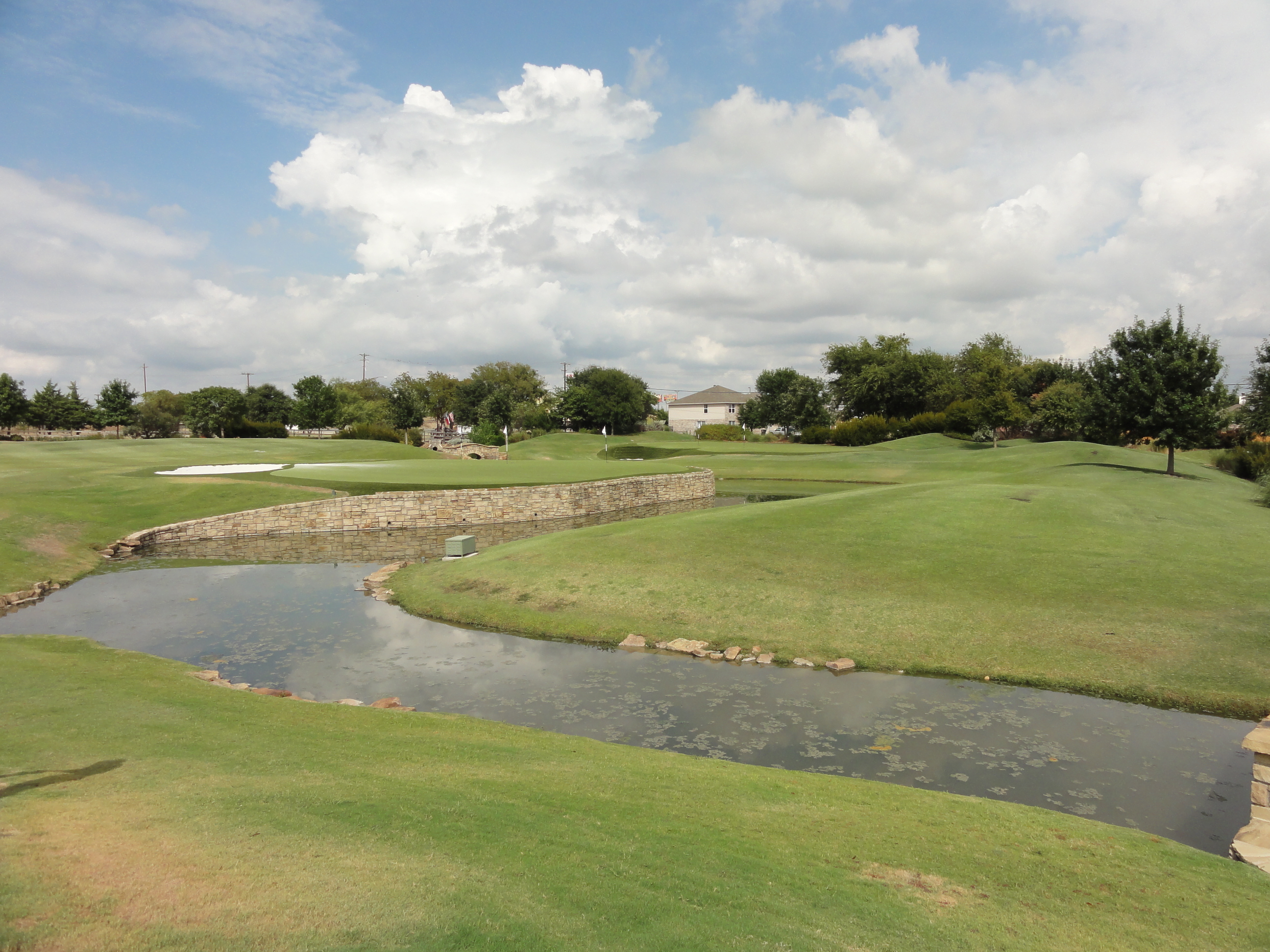 19th May 2015
Mr Campbell was invited to deliver a Keynote Lecture at the Scottish Sports and Exercise Medicine Symposium arranged by the Royal College of Physicians & Surgeons of Glasgow and held at Hampden Park, Glasgow. The other Keynote speakers were Sir Alex Ferguson and Dr Luis Serratosa (Team Doctor for Real Madrid).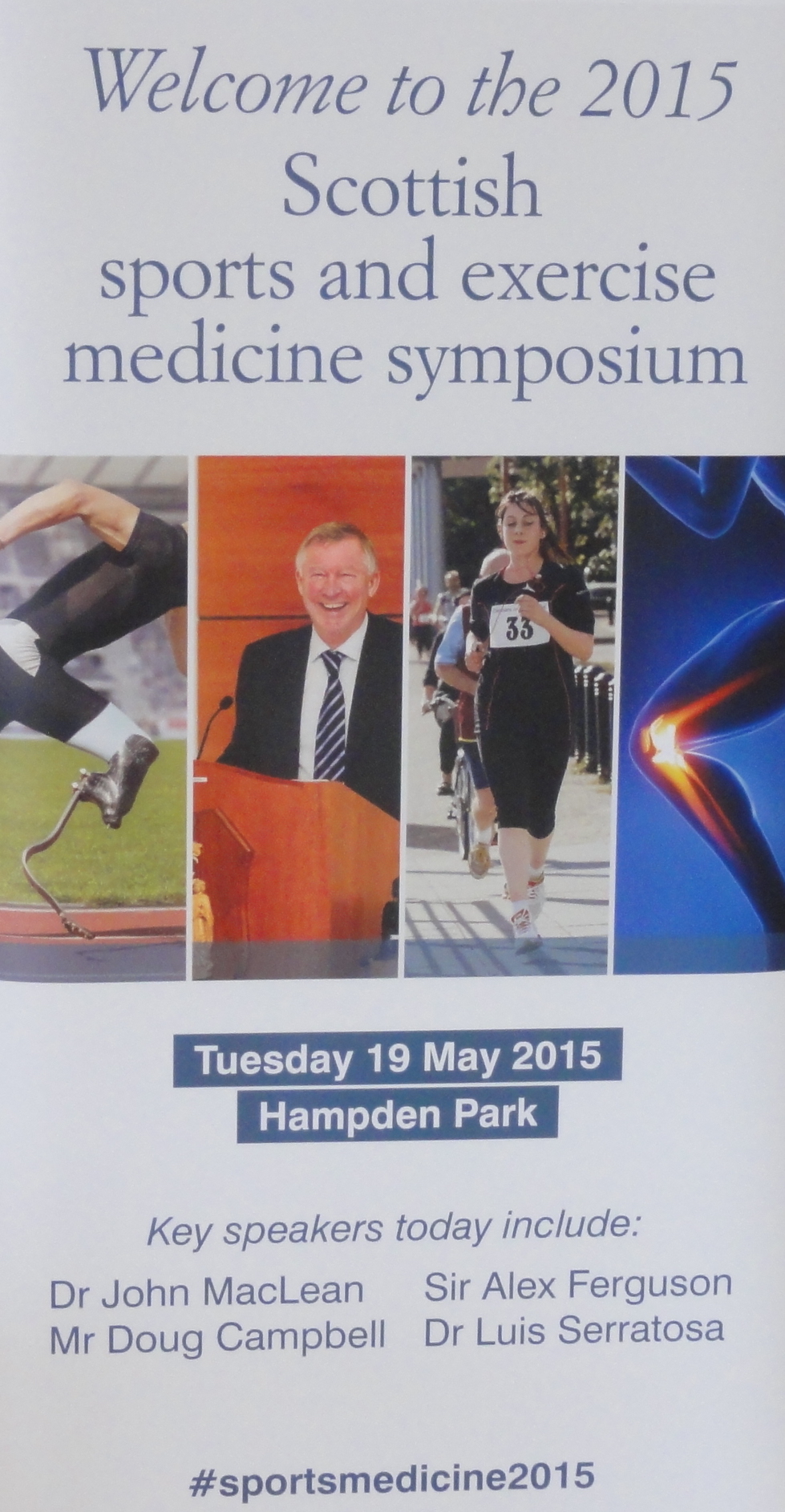 30th April - 1st May 2015
The British Society for Surgery of the Hand held its Spring Scientific Meeting at The Assembly Rooms in Bath. On the opening morning, Mr Campbell joined Mr Donald Sammut in running a live demonstration of anatomy of the hand and wrist. The session was transmitted live from the Department of Anatomy, University of Bristol, to the meeting room at The Assembly Rooms.
Mr Campbell also gave an invited presentation in the lecture hall entitled 'Malunion of the distal radius - how I treat it'.
24th-25th January 2015
A
Masterclass Surgical Techniques
Course was held in Basel, Switzerland, where complex reconstructive techniques were taught to a group of experienced international surgeons. Cadaver models were used to replicate authenticity and to demonstrate common pitfalls and illustrate surgical pearls.
The course was chaired by Dr Renato Fricker (Basel, Switzerland), Professor Karl-Josef Prommesberger (Bad Neustadt, Germany) and Dr Matej Kastelec (Ljubljana, Slovenia).
Mr Campbell gave a presentation on 'Distal ulnar and DRUJ injuries in wrist fractures' and demonstrated a variety of surgical approaches, tendon transfers in the hand and fixation techniques for a range of thumb fractures.
2nd October 2014
The Medical Advisory Board of the European PGA Tour were invited to run a half-day symposium on 'Golf Medicine' at the Annual Conference of the British Association of Sports and Exercise Medicine (BASEM). The meeting was held in The Assembly Rooms in Edinburgh and attended by Sports Doctors and Sports Physicians from around the world.
Dr Roger Hawkes introduced the session and spoke about The Shoulder In Golf. Further presentations from Mr Rob Hillman (The Golf Swing and The Back In Golf), Professor Damian Griffin (Hip Impingements In Golf), Dr Phil O'Connor (Imaging In Golf), Dr Dan Coughlan (Profiling in Amateur Golf) and Mr Doug Campbell (Wrist Injuries in Golf) completed a thorough session on current specialist knowledge of this emerging topic.
20th August 2014
The Edinburgh Trauma Symposium was held at the Roxburghe Hotel in Edinburgh. Mr Campbell was invited to give two presentations entitled 'Scaphoid Fractures & Non Unions' and 'Carpal Dislocations'.
30th May 2014
Mr Campbell was honoured to be invited to give the Harvard University 2014 Richard J Smith Memorial Oration at a meeting in Cambridge, Massachusetts and in tribute to the work of Dr Smith - a key leader in the development of Hand Surgery until his untimely death in 1987. The meeting was attended by surgeons, trainees, Harvard academics and members of the late Dr Smith's family. Mr Campbell entitled his lecture 'From idea to the O.R. - the work of the AO Hand Expert Group' and described how an idea for a new surgical implant developed from the drawing board, through design, laboratory testing to its ultimate clinical release and use.
1st March 2014
The inaugural meeting of
'The Oxford Hand Club'
was held at the Nuffield Orthopaedic Centre in Oxford to coincide with the retirement of the senior Hand Surgeon, Mr Peter Burge.
A Scientific Meeting was held, attended by many established UK Hand Surgeons who had trained in the Department over the previous 25 years.
Mr Campbell gave two presentations on new surgical techniques he had developed, namely 'Intra articular osteotomy for malunited PIP joint fractures using an ultrasonic saw' and 'Metaphyseal Ulnar Shortening Osteotomy'.
The meeting began with a buffet lunch at the Botnar Research Centre, and was followed by an evening dinner at Wadham College, Oxford.
The photograph shows (from left to right);
Mr DA Campbell, Mr PD Burge and Mr H Giele.
6th February 2014
The Chelsea Advanced Wrist Fracture Fixation Course was held at the Chelsea and Westminster Hospital, London with participants attending from across the UK. Mr Campbell opened the meeting with a lecture on 'The history of distal radius fracture management and overview of implant design'.
1st - 6th December 2013

Mr Campbell co-chaired the 'AOTrauma - Management of Fractures of the Hand and Wrist' course with Dr Renato Fricker in Davos, Switzerland. In a programme that took a year to plan, eighteen renowned international Hand Surgeons from North and South America, Europe, the Middle East and Far East travelled to the Swiss conference resort (home of the World Economic Forum) to instruct 70 international participants from countries around the world in contemporary techniques in hand and wrist trauma management. In a week-long course, participants listened to a full lecture programme as well as engaging in small focus discussion groups about clinical problems, and 18 separate practical surgical skills labs.
16th - 17th November 2013

The 16th International Hand and Wrist Surgery Course took place in Madrid, Spain. Mr Campbell was one of 6 international speakers in this 2 day meeting when he delivered lectures on new techniques for internal fixation of finger joint fractures, surgery for early post-traumatic finger arthritis, and painful degenerative tears of the wrist cartilage. 140 participants attended from all over Spain. Simultaneous live translation allowed participants to fully engage with all the visiting speakers.


8th November 2013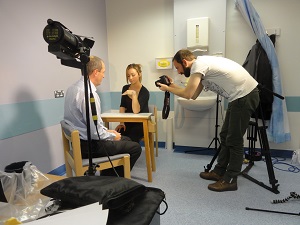 A film crew from the British Medical Journal visited Leeds General Infirmary to shoot an instructional video on 'Examination of the Wrist for Sports Physicians and Physiotherapists'.
Mr Campbell is seen during filming. The completed video will appear online as an educational resource of The British Journal of Sports Medicine (BJSM).

5th October 2013

The 68th Annual Meeting of the American Society for Surgery of the Hand (ASSH) took place in the Moscone West Convention Center in San Francisco, CA. Mr Campbell was honoured to be invited to speak in the 3,000 seat Main Auditorium on 'The Evidence for Diagnosis and Management of Acute Scaphoid Fractures'. This was the first time this meeting (the largest national Hand Surgery meeting in the world) employed an entirely paperless administration and abstract service. The several thousand participants used their smartphones and tablets to download and read lecture timetables, conference center maps and also to submit 'live' questions to speakers during their presentations.
25th - 26th April 2013
The British Society for Surgery of the Hand held its Spring Scientific Meeting at the International Conference Centre in Harrogate. On the first day of the meeting, Lucy Follett (Lead Physiotherapist with UK Diving) presented the clinical research she had carried out with Mr Campbell on 'Wrist problems in elite international divers'. The GB national elite and Olympic diving squad were all clinically interviewed, examined and followed for the 2012 Olympic year to assess the incidence of wrist problems and the influence of various training regimes on development of symptoms.

Immediately after this lecture, Mr Campbell presented the results of a year-long study performed by the Medical Advisory Board of the PGA European Tour in his talk 'The prevalence, variety and impact of wrist problems in elite professional golfers'.
Mr Campbell delivered an invited presentation on 'Distal Ulnar Prostheses' in an afternoon symposium on clinical problems affecting the rotation joint of the forearm. He then chaired a session on the final day on 'Wrist & Scaphoid Fractures' when 9 original scientific papers were presented.
4th - 8th March 2013

The International Federation of Societies of Surgery of the Hand (IFSSH) had their biennial meeting in New Delhi, India. Mr Campbell gave an invited lecture on 'The evolution of distal radius fracture fixation' where he described the changes that have occurred in implant design over the past 30 years.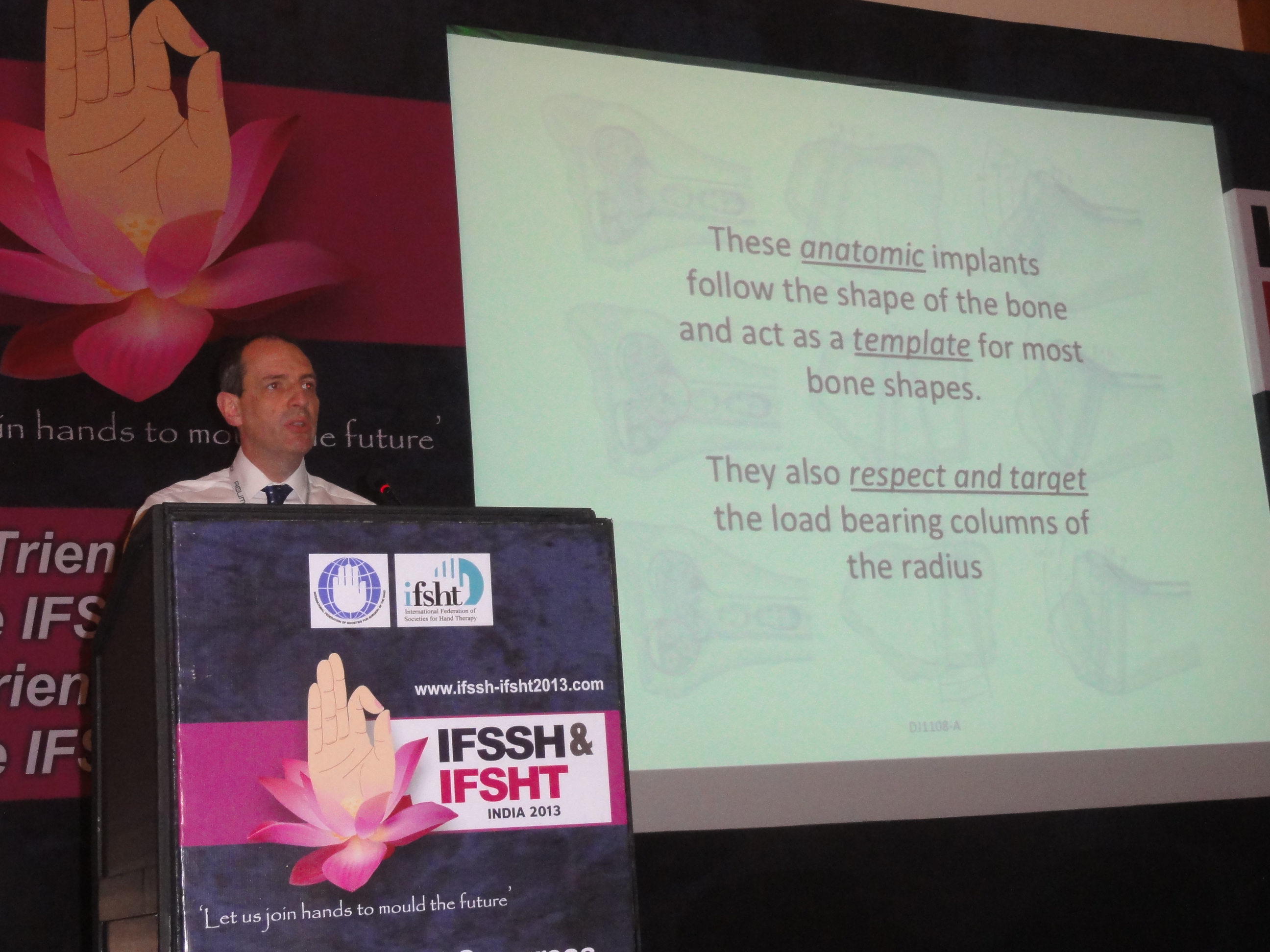 He also presented a paper on a piece of original laboratory research on 'A method of 3D bone mineral density mapping for the distal radius'. In this study, a method was described that had been developed by computer analysis of human wrist bones to define the areas of strongest bone structure within the bone adjacent to the wrist. This will have implications for the future design of metal plates and screws designed to treat wrist fractures.
18th - 19th February 2013

A two-day conference on 'Orthopaedics and Sports Medicine' was held at the Hallam Conference Centre in London. Mr Campbell gave a 45 minute presentation on 'The importance of the hand and wrist in sport', describing how effective hand and wrist function is critical to all aspects of sports performance from the balance of running to the gripping of clubs & racquets in technique-dependent sports. He received a feedback score of 89% 'excellent' from approximately 40 participants.
Previous articles in the national media



Sports medicine articles:



LATEST NEWS

A recent study in the American Journal of Hand Surgery (June 2010) has shown that emotional factors and lack of confidence in postoperative pain relief contribute significantly to a patient's surgical and treatment experience. Surgical staff working in both private and NHS facilities in Leeds are acutely aware of these issues and take steps to openly assess anxieties before, during and after treatments so as to be able to reassure patients during every step of their treatment journey, that support is available.